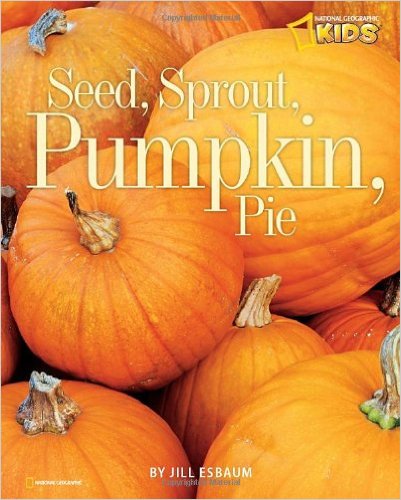 Go on a Pumpkin Hunt Today!
Seed, Sprout, Pumpkin, Pie
from the National Geographic Kids series
By Jill Esbaum
There have been plenty of fall weekends this October, and several more to go, where families can go pumpkin picking.
Kids love to forage in fields for the "perfect pumpkin." And, for each child, this perfectness will, in their minds, vary from the tiny to the titanic.
And, along with corn maizes and the onset of kid friendly "agra-entertainment", is the ability post or pre pumpkin pick, to settle down for a quiet moment with a child and perhaps a picture  book about this worthy squash called the pumpkin.
If your young reader is loaded with questions such as, "How did my pumpkin grow?", then this book from the National Geographic Kids Series, is a fine start for the youngest among us.
Its simple wording and accompanying bright photos of a pumpkin's beginnings from seeds tucked into the "sun-warmed earth," gets this pumpkin lesson off to a grand start.
Pretty soon the young reader is looking at a seed softened into a sprout by spring rains. Next, tangled vines protrude above the dirt and bright yellow flowers allow bees to spread their pollen from flower to flower.
And it's a small leap to those knobs that form, morphing over time into pumpkins.
Here, at the farm, we saw firsthand how those cool October nights arrived, and those pumpkin vines fairly shriveled, and left in their wake, a veritable plethora of pumpkins.
Your young reader will marvel while turning  pumpkin filled pages showing the variety, size, and color of pumpkins that are part of this squash family contingent.
Did you know that they can be green, red, tan, yellow, white, and even blue? Though the ubiquitous orange pumpkin is probably known best by kids, they all are photographed in profusion in Jill Esbaum's colorful read.
Found in varied sizes, my favorite pumpkin picture in her book are three men, each in a ginormous hollowed out pumpkin, paddling along in the water in their pumpkin boats.
She points out that that, though hollow inside, and full of stringy goo, the seeds of next year's crop can be found inside.
Our family has a tradition when we carve our jack o' lanterns, that each and every member put their hand inside the carved pumpkins and haul out a handful of the goop for luck. We've even mailed a small handful to members that couldn't be there in person. We're traditionalists; what more need be said?
And for the purists, and do it "from scratch," souls, there are the suggestions and pictures of the pies, breads, desserts and soups thatmay emanate from the venerable pumpkin.
Pictures of jolly jack o' lanterns, with toothy grins, are in evidence, as well as the important note that unused pumpkins may be used to feed animals on a farm, or left in the field to nourish the soil. Many an unwanted pumpkin has nourished our fields. Sniff Sniff.
Provide your young reader with a window into the cycle of the pumpkin and how, if we are careful, nothing is wasted. Instead, this past season's pumpkins feed the growth cycle next spring as "Seed, Sprout, Pumpkin, Pie" gives a simple and salient homage to the "pumpkin moonshine" in your child's future.
Turning the pages before or after your trek to the pumpkin field, is well worth a look at this pumpkin info book.
Happy pumpkin hunting!