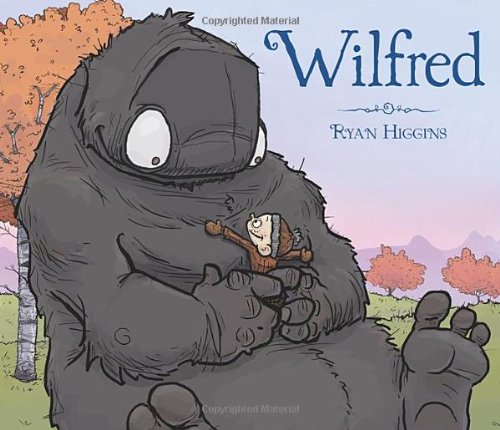 A Small Picture Book Can Make a Big Difference
Wilfred
by Ryan Higgins
This might seem a strange book to bring to the fore now, when my mind is filled with the last month's events in a high school in the state of Washington. BUT, I think with millions of other parents around our country, we are echoing the eternal WHY after tragic events occur in schools where our children are supposed to be most safe.
The reactions, as with events of this type is to bolster security and to lock down. But maybe we have to be looking at our culture in our children's earliest formative years, what they are taught, what is modeled to them and what they take in as they are VERY observant.
Enter the teachable moment via "Wilfred". He is "humongous and hairy" – hardly characteristics of the ideal friend, no? But he IS a most generous monster that enters a town filled with less than hirsute people. In fact, THEY have NO hair; not a single strand! Very telling as Wilfred's hairy persona is brimming with kindness and overtures of friendship.
One small boy discovers Wilfred is so eager for friendship that the youngster takes the game of "Simon Says" to a whole new level as Wilfred eagerly complies with his requests to do his math homework, play the ukulele, and even reenact the Battle of Waterloo.
The townspeople quickly realize that Wilfred HAS what THEY lack – namely HAIR! With a "no hairy monster rule in town" imposed, what's Wilfred to do? Yup, he has to stop being hairy. So the eager townspeople snip away.
As colder weather descends Wilfred is huddled in a cold cave near a fire needing warmth. Ah! But what he really needs is the WARMTH of friendship. Meanwhile the townspeople are walking around with hairpieces fashioned from the now hairless Wilfred!!
The small boy comes up with a mitten idea fashioned from his own blanket to warm up Wilfred and is lost in a snowstorm during his search for his now hairless friend.
Will the townspeople search for the young boy? You bet! But SOMEONE else, shivering and hairless, answers the call for help first to save the day at his own expense. After assembling blankets and a warming fire, the warm and wigged townspeople gather their hairpieces and sew them together for a hairy ensemble with zipper and a big smile for WILFRED!
Can something so small as a picture book make a big difference in how children view each other and the world? I believe deep in my heart that they can and that they, and the subliminal lessons of compassion, friendship, empathy, kindness and understanding are not lost on the youngest of our growing citizenry.
Somehow, they MUST be given tools to navigate life and ALL that it brings! They may face at odd times, cruelty, rejection, disappointment, failure, and a whole host of human experiences and emotions that are confusing. A spirit of resilience and the belief that they need NOT act on every passing emotion they feel, is an important learning curve for kids. And it's never too early to start the lessons. Permanent solutions to temporary emotional blips are what we are seeing in young adults in our culture now.
"Wilfred" is not a permanent solution to this very troubling trend in our culture, but he is a start!