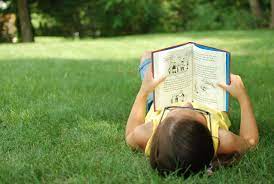 Summertime is for reading
When I was a teenager in the America of long ago, there was something called a transistor radio and each and every kid either had one or was pleading with their mom and dad for one.
I finally received mine as a birthday gift at the beginning of a glorious June day! Out of these radios in summers back then, drifted the sweet music of the "summer song", as they were called. They spoke of "Those Lazy, Hazy, Crazy Days of Summer", "Summer in the City", "Warm California Nights", and "Summer Breeze". We listened to those evocative tunes that heralded summer with its slowed down pace, hot days and hotter nights, flipping our pillows to the cooler side in pre-airconditioned houses and dreamt of days filled with no schedules… just fun.
I hope that no scheduling time in summer still exists for children and can be filled with imaginative play and reading.
One thing that was also a constant was frequent trips to the library during the summer to catch up on reading for the sheer enjoyment of finding a new book you hadn't read.
Our town library was a trek from my house and I sort of dreaded the long walk in the heat, but I remember the smell of the books in the stacks as I entered. I was home. I could wander, check out new editions, see what had been returned, and plod home with my pile of goodies, due back in two weeks time.
With the new normal of social distancing amid the Covid-19 pandemic, best to check in with your local library and local book stores to see what their requirements are in terms of adhering to their health guidelines.
If there is one good thing about this pandemic is that there is more time for young families to be together, more time for leisure and more time for reading to and with young readers.
Long, leisurely summers haven't changed since I was young, nor the possibility of free time for reading. The great thing about a book is, like the transistor radio of long ago, they're portable and can be taken along most anywhere. And they still smell good!
And, with the age of technology, e-books abound to be read on a reader of Kindle or Nook variety. Though for my picture book audience, thankfully, a physical book is still in huge demand. I love that!
I know most of my readers have a public library nearby, where books are still on loan for free, but what I also hope you have access to in YOUR town is a great user-friendly, welcoming children's bookstore. They provide great selections of reads for all age groups and are eager to help with suggestions for age appropriate materials of particular interest to YOUR child. In our town, we were fortunate for a time to have a fantastic children's bookstore called Acorns, with the adage writ large on its exterior.
It was taken from an essay by David Everett that appeared in The Columbian Orator in 1797:
Large streams from little fountains flow; Tall oaks from little acorns grow.
And, as I update this blog, Acorns is sadly no more; a victim of the demise of the brick and mortar local book store, which some of my readers are still fortunate to have in their nearby environs.
I urge you to support them. Yes, in the age of instant everything it is easier to have next day delivery and the convenience of ordering online for we are all so busy today with our schedules.
BUT, if I may make a plea that if we do not support these stores, post pandemic, with our purchases of books and other items such as cards and small gifts, they will be forced to go the way of Acorns whose warm and inviting atmosphere reminded us of the book store in the movie, "You've Got Mail." It was not only a book store, but a community gathering spot for story hours, browsing and conversation. The staff was friendly, knowledgeable and welcoming.
In the interest of full disclosure, may I freely admit my own daughter worked there and found it a delight.. Reading and books are in our DNA, you see!
These stores are disappearing at a quickening pace because of rental costs and their inability to sometimes carry large inventories. That, in itself, requires reorders and a turnaround time for which many people are unwilling to wait.
As I mentioned, I went to our local Acorns children's book store many times and filmed multiple episodes of something called "Penguin Story time" there.
"Early and often" is my mantra for reading to and with a child, and this summer is the perfect time to begin. Happy summer reading!
See our "Summer Reading Picks for Kids, Part 1" book – Ladybug Girl at the Beach by by David Soman and Jacky Davis