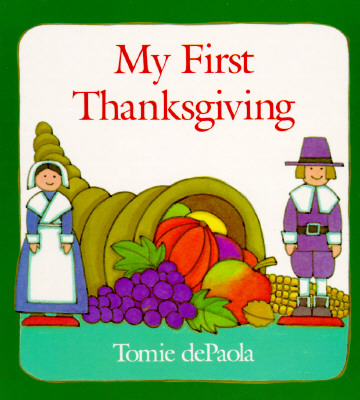 More Thanksgiving Books to Share with the Whole Family!
My First Thanksgiving
By Tomie de Paola
I love sturdy and durable board books that can be wiped off and stand up to sticky fingers and many hours of reads and rereads.
Here in Tomie de Paola's My First Thanksgiving with its cover of embossed figures of a smiling Pilgrim couple flanking a brightly colored cornucopia of fruits, corn and pumpkins tumbling out, his book does much to echo in its feel, the quote of Shaker Joseph Brackett's dancing tune, "Simple Gifts" with its opening lines, " Tis the gift to be simple, tis the gift to be free."
With wonderful colorations of vivid red, russet browns and golden pumpkin yellow filling his illustrations, Tomie tells the true story simply explained for the youngest of readers that is woven in telling and retelling into the fabric of our society. Here in story and delightful illustration is the arrival of the first Pilgrims, the friends who came to their feast and brought food in friendship, and its reenactment and remembrance across tables in America on every last Thursday in November. Put in small hands and read with conviction by parents or grandparents or for that matter any adult who can be prompted to do so, it's simplicity is sure to speak wonderfully to the tradition of the history of a holiday and perhaps, by its very reading, will introduce another tradition to your littlest ones. I can't think of a better book to introduce Thanksgiving to a young reader, as it's both eye-catching and easily informative. Gobble, Gobble, Tomie – It's a winner!
All Aboard Reading Series:
Pardon That Turkey: How Thanksgiving Became a Holiday
By Susan Slade; illustrations by Christian Slade
If you've not been introduced to the "All Aboard Reading" series of level reading, this particular title is a great place to start. This level three title is for kids who have the ability to read alone for it supplies:
1. Longer text

2. Harder words

3. More complex stories
In the above title, your child will learn about the little known Sarah Hale. Who, you may ask, is she? Well only the woman who tenaciously from 58 years of age until 75 campaigned for the national holiday called Thanksgiving!
Starting her campaign in a women's magazine called Ladies' Magazine, Ms. Hale began a crusade for a national day of thanksgiving to help bring a nation together and heal wounds caused by various divisions; the Civil War being a huge contributing factor. And later as editor of Godey's Lady's Book, the most popular magazine in the country, she wrote alongside such literary luminaries as Poe, Stowe and Hawthorne.
Sarah's audience and reach increased, but she failed in her quest for national Thanksgiving Day through four presidencies, each of whom denied her entreaties. They were Zachary Taylor, Millard Fillmore, Franklin Pierce and James Buchanan.
Finally, her goal resonated with Abraham Lincoln who agreed it was an idea whose time had come. In 1863, Lincoln declared Thanksgiving Day a national holiday to be celebrated every year on the last Thursday of November. Seventeen years of letter writing campaigns to presidents, congressmen and politicians was rewarded with success at the age of seventy-five for Sarah! And don't let us forget the story behind the tradition of the turkey pardon which kids will enjoy reading. One turkey out of millions is designated the National Turkey, along with the Alternate National Turkey who steps in if the first can't fulfill his duties. Yes really! The National Turkey Federation does the presenting folks.
Did the pardon start with Lincoln, Truman, Kennedy, Reagan, or G.W. Bush? Read on to find out. This Tom Turkey in addition to the pardon he receives, has even been Grand Marshall of the Disneyland Thanksgiving Day Parade! How's that for living large?
And as for Sarah Hale, the woman who accomplished so much and in her spare time wrote the famous children's rhyme, Mary Had A Little Lamb, something tells me she too would give thanks for the turkey reprieve. Kids will read and certainly enjoy this slice of turkey Americana served up reader style.
A True Thanksgiving Story: T Is For Turkey
By Tanya Lee Stone; illustrated by Gerard Kelley
Using the alphabet as learning tool, Ms. Stone breezes from letters A through Z dispensing tidbits of Thanksgiving related facts, using the device of children putting on a traditional Thanksgiving elementary school play. Each child on stage relates a snippet of information connected with the holiday, starting with a letter assigned to each. Alphabetically they depict and recite info on Pilgrims, Native Americans and even historic figures of the time period using a word stating with their assigned letter. Fun huh? Children can easily relate to this probably having played similar parts themselves. With V for venison, S for Squanto, H for Sarah Hale, the foundress of the feast, M for Massasoit, and even a bit of Puritan vocabulary lesson thrown in with G for "Good Morrow", the traditional Pilgrim "Good Morning" greeting, each child performs to perfection and never flubs a line.
But I must confess I did get a tad uneasy as we paged closer to the letter X!
How is one going to come up with a Thanksgiving related word beginning with X? This is going to be very informative, I thought, and it was. Ms. Stone gamely used the word xenial, and for the uninitiated, according to the author, it's meaning is something akin to "Make all your guests feel like kings and queens." Hey, it's Thanksgiving vocabulary building. I'm all for hospitality, but I wonder how the Pilgrims would feel about being "XENIAL", having just fled from the oppression of Queen Elizabeth I and King James I?
Still, I love the words the author uses to describe the Pilgrim experience of patient endurance and some of them were: BOLD, DIFFICULT, JOINING, NEIGHBORS, OPPORTUNITY, UNDERSTANDING and ZESTFUL.
This book for the youngest of Thanksgiving participants, and perhaps especially for those appearing in their first Thanksgiving harvest play production in school, is one they may find both comfortable and familiar. I'm glad I wasn't assigned the word "xenial" in my play. I can handle Happy Thanksgiving though. Massasoit is even a stretch for me.