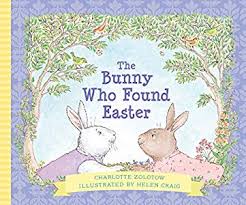 "The Bunny Who Found Easter" by Charlotte Zolotow; illustrated by Helen Craig
Somehow this Easter and every holiday, I keep revisiting the classic tales and storytellers.
They stand the test of time for perhap editors at that time did not worry over picture books being too "text dense" for young readers or vocabulary too challenging, as in a child seeing and not recognizing a word or a narrative going on for multiple extensive paragraphs per page.
And so I come again, as I have before, to Charlotte Zolotow; a favorite of mine.
In this 1959 gem of a picture book, Ms. Zolotow introduces her young readers to a bunny who, at that time is experiencing "aloneness" or maybe even social-distancing, by accident.
One day a little bunny woke up from

a long nap alone under a tall elm tree.

He heard the silence of the woods

around him and wanted other rabbits

like himself for company.
This is all beginning to sound like the siren call of many today!
Where can one go for information about company?
Wise old owls in trees are usually ones in the know.
"Can you tell me where I will

find other rabbits?" he asked a

sleepy old owl in the elm tree.

"Other rabbits?" said the owl.

"Why there are always rabbits at

Easter."

"Where is Easter?" asked the

little bunny eagerly.
And so, the bunny's quest for Easter and companionship commences.
It takes him through hot summer day, and pools of water filled with silvery trout.
But no bunnies.
On he goes through fields filled with daisies and buzzing bumblebees. Plenty of white daisies, but no white bunnies.
Caught in a thunderstorm, he is not deterred, though there are rumblings of thunder and streaks of lightning that fill the sky.
He catches sight of beautiful mountain laurel.
"He could see the

mountain laurel with

the wet shining leaves,

each flower cup filled

with one sparkling

drop of rain."
Nope, this is definitely beautiful, but not Easter, he says.
Dead leaves crackled

under the soft rabbit hops

of the little bunny who

was looking for Easter.
He stopped under

to rests and 

a round shiny red

apple fell down and

startled him.
It smelled of autumn

and crispness.

He took a bite with his

two front sharp teeth.
When he had

crunched the apple to

its seeds, looked

around and sighed.

There wasn't another bunny to be seen.
This is one tenacious lapin and he is not about to give up.
He's very close, young readers, when the landscape turns to white that resembles the whiteness of his fur coat.
Looking for other foot prints, he sees only his own.
But, suddenly things change. There are group of squirrels capering about, a family of deer trot by and there is a wonderful smell in the air.
He falls asleep in the hollow of a tree and:
When he woke up the next

morning there was something

different.

It smelled ….he quivered

his nose and smelled hard….

it smelled of greenness and

warm soft sunlight.
He sees other tracks not unlike his own.
It was another bunny!

She had brown fur.

She had long ears like

himself, and eager

bright eyes like himself.

The little bunny

was so happy to find

her, he completely

forgot about Easter.
Some bunny has found someone.
And something tell us, young reader, that soon, that wise old owl knew something all along.
"Aha!" said the old owl when he saw the bunny's family, didn't I tell you so? At Eastertime, there are always rabbits."
Charlotte Zolotow's narrative of a bunny's search for Easter and his finding a companion and a family into the bargain is as sweet an Easter story as you will find.
Helen Craig's illustrations are a soft palette of color that changes with the seasons from the soft pastels of summer to the russets of autumn to the sharply cold whiteness of winter and eventually blossom into the greenery of the welcoming of spring.
Her art and characters perfectly match and er mate with the narrative. Oops!
Ms. Zolotow was a writer, poet, editor and publisher for Harper and Row; now Harper Collins, publishing some seventy books and winning the Regina Medal.
Two of my favorites of hers were "The Storm Book" and "Mr. Rabbit and the Lovely Present" that was illustrated by Maurice Sendak.
Please, this spring, or any season, allow your young reader a peek at Charlotte Zolotow's bunny in pursuit of Easter in "The Bunny Who Found Easter."
He's some bunny you will love!