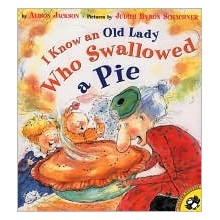 The time for the Thanksgiving read aloud is now!
I Know an Old Lady Who Swallowed a Pie
By Allison Jackson; pictures by Judith Byron Schachner
Here is a perfect Thanksgiving read aloud during that loooong day when the kiddies keep saying, "When do we eat?," "Is Grandma here yet?," "I hate turnips" or "Can I taste the punkin' pie NOW?" It's the perfect fill in during those lulls before or after the tryptophan from the turkey kicks in and everyone sprawls about in a state of semi stupor. The time for the Thanksgiving read aloud is now!
Please rouse the most alert of the tuckered out adults and let them cozy up with this variation on a theme of the old standard song, "There Was an Old Lady Who Swallowed a Fly". It's been done by no less than Burl Ives, Judy Collins accompanied by the Muppets, and in the movie, "Mr. Holland's Opus", actor Richard Dreyfuss sings it to his movie wife and son. Simms Taback also fashioned it into a marvelous picture book that is certainly worth a look on the fly. Sorry.
But Alison Jackson's variation on a theme doesn't include the old woman's consumption, as in the original rendition, of successively larger creatures such as fly, spider, bird, cat, dog, goat, cow and horse.
No ma'am. This Skinny Minnie starts out with the best of intentions as she bakes a pie to take as a contribution to the Thanksgiving feast. Small problem though, she should have consulted Martha Stewart's recipe for the perfect pate' brise. To the uninitiated, that's piecrust extraordinaire!  Hers is a mite dry. And that's when the hilarity starts to build and doesn't stop.
To forestall the dry crust, the sweet ole thing begins CONSUMING, at a furious pace, a host of additional Thanksgiving favorites to make it LESS dry. But does it have to be the entire menu plus cookware?  Seen downing cider, a roll, squash, salad, turkey, a pot, a ten-layer cake and culminating with BREAD, eager youngsters at the festivities ply her with the various foods. Hey, these young'uns only want to HELP the skinny old lady. But the help extends her size and weight to that of those giant gourds you see at weigh-ins come fall harvest. And her dress, done in a shade of pumpkin perfection, plus her graduated gargantuan size and shape, transform her into a perfect vision of a Macy's Thanksgiving Day Parade balloon prototype!
Move over Spidey, Superman and Snoopy!  There's a new balloon addition that's fit to bust and so will kids – with laughter.
So as the lull descends on Thanksgiving Day, please let your children enjoy the literal rise of, "I Know an Old Lady Who Swallowed a Pie." She doesn't need pie a la' mode, trust me; for this is a  plucky character who gives the word "zeppelin", new meaning.  But you and your kids will share lots of giggles at her ascent.