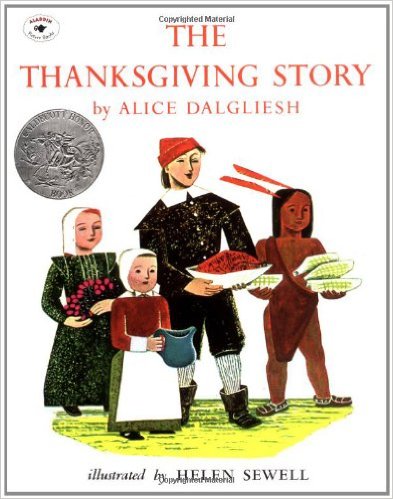 Take a Trip to the First Thanksgiving That is a True Classic Picture Book Read!
The Thanksgiving Story
by Alice Dalgliesh; illustrated by Helen Sewell
Elementary school stages will have been filled this year with black and white garbed Pilgrims, Squantos, Massasoits, William Bradfords and military advisors named Myles Standish, of course.
And, as usual, in years past, the harvest feast is shared with Indians. It is important to remember these Indians, at varying times in the Pilgrim's epic journey in their new land, translated for them and taught new skill sets in farming, in order to help sustain these newcomers.
And, as these young ones reenact this certain time and place each November depicting a series of momentous events in our country's history that displayed and demanded enormous amounts of faith and fortitude amid quite staggering odds, young readers should be encouraged, as they portray and view these role models, towards the reading of some wonderful and worthwhile accounts of the events before the first Thanksgiving.
For some reason, we tend sometimes to sanitize things for kids, and pretty them up so they will not be upset. And that is sometimes a quite reasonable thing to do as far as very young ones are concerned.
But, as young readers mature, just maybe it's not such a great idea to protect them so fully and completely from reality. For it will come; sometimes sooner; sometimes later.  How then do we build a resilient spirit in them when it does come?
One way is to put forth role models and heroes in plain sight. These may be people that show and model the very skill sets and virtues for navigating life that we hope they will internalize.
And Thanksgiving seems a perfect opportunity to discuss, while passing around the turkey, yams and cranberries, even to a smaller than usual group gathered, the internal guidance system the Pilgrims displayed that kept them moving forward in the face of a flood of failures that came upon them. And to reemphasize their trusting sense in a higher power that they believed had a part in their destiny.
Death, disease, and daunting weather did not deter them. It propelled them on to form the Mayflower Compact as they realized that community, hard work and setting individual goals, were the way to a better life.
Isn't that something we want for our children as they navigate an increasingly divided nation? As they become in their own New World of today, what they want to see in it; perhaps the sharing spirit of the Indians, the tenacity of the Pilgrims, and the communal togetherness of the harvest held at the first Thanksgiving, is a great place to start them thinking of exactly why we celebrate, and what is truly important, come that last Thursday each November. Here's one review of this Caldecott Award winning picture book:
"Everyone who has anything to

do with children will want this in

time for Thanksgiving…A beautiful

book"

The Horn Book

 
Alice Dalgliesh's 1955 Caldecott Honor Award winning book is a fitting one to introduce your children to this familiar story of the scenes and characters of that eventful time in our nation's history, marked every Thanksgiving.
The picture book holds both the significance and importance of the story of the Pilgrim journey in 1620, and Ms. Dalgliesh's picture book takes on a relatable reality for kids, as it is told from the perspective of an actual family that sailed on the famous Mayflower.
Young readers will follow the story of the Hopkins family and their perspective in the event, through the boldly colored pictures, done in primitive fashion by Helen Sewell. You will truly remember the story of young Giles, Constance and Damaris Hopkins who, along with their parents, start their journey to a new life on a summer day in Southampton, England.
Kids will be surprised that a new member of their family is born onboard during the voyage, and the Hopkins try to pick put the perfect name for the baby; and they do, when they name him Oceanus!
Two ships are docked there in Southampton, England. The larger is called The Mayflower, with the smaller, The Speedwell , both set to go to America, and so are the Hopkins family. A leak prevents The Speedwell from leaving, but that does not deter the Hopkins family in the least.
I like to think the boldness of Helen Sewell's colorations also dovetail perfectly with the "bold spirit" of these early forbearers that risked all to find a better life for their families in America.
Why not take this life-changing journey along with the Hopkins family aboard The Mayflower as they enter into a new life in America, along with 102 others aboard The Mayflower?
Alice Dalgliesh's award winning, simply told tale of the Hopkins family and their voyage on The Mayflower, along with its details of their first year in the Plymouth Colony, is a must read this Thanksgiving.
It's a trip worth taking and values worth sharing with your young reader this last Thursday in November that is a reminder of the tremendous blessings given to us individually, and collectively, as a nation.
And, perhaps, it's totally appropriate to thank the Giver of all good things, too!