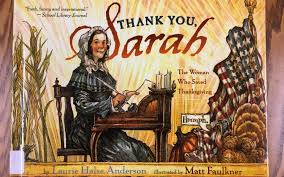 "Thank You, Sarah: The Woman Who Saved Thanksgiving" by Laurie Halse Anderson; illustrated by Matt Faulkner
The name, Sarah Hale, probably doesn't ring a bell with you, but it should for a a number of reasons. She did, indeed, write the oft-recited and remembered childhood poem, "Mary had a Little Lamb," but much more importantly, she was…"someone bold and brave and stubborn and smart." She was a woman on a national mission.
So, before you sit down on the 4th Thursday of November to dig into that turkey with family and friends, and as you pass around the cranberries, you just might want to give a tip of the toasting glass to Sarah Hale. She's the reason in 1863 that President Abraham Lincoln made Thanksgiving a national holiday for all Americans to give thanks together as one nation.
But, it took Sarah Hale thirty-eight years and four presidents to accomplish that dream. In the meanwhile, she was a very busy woman as the mother of five children, writer of poetry, children's books, novels, biographies and the first female magazine editor in America. She also published the work of such notables as Henry Wadsworth Longfellow and Edgar Allan Poe.
She took pen to paper on a number of subjects in her efforts to make the world better:
Sarah Hale was every inch a super hero. Not only did she fight for Thanksgiving, she fought for playgrounds for kids, schools for girls,  and historical monuments for everyone.

She argued against spanking, pie for breakfast, dull stories, corsets and bloomers and bustles, and very serious things like slavery. 
This  Junior Literary  Guild selection picture book from 2002 by Laurie Halse Anderson, with illustrations by Matt Faulkner, rendered with realistic verve, vivacity and touches of wit, so well suited to the subject, should be high on your list of Thanksgiving read-alouds to children as you gather this Thursday.
Way back when, in Mrs. Hale's time:
Thanksgiving was fading away. Sure, the folks up in New England celebrated it. They'd roast a turkey and invite some relatives when the harvest came in. But not in the South, not in the West, not even in the Middle Atlantic States. More and more people ignored the holiday. 
Sarah wrote thousands of letter to draw attention to her belief in setting aside this last Thursday of November as a day to give thanks as a nation. She even wrote magazine articles asking for help. And guess what? The women of America were listening.
They put pen to paper as well, in order to lobby politicians for the nation "to celebrate together, as a family."
Through the presidencies of Zachary Taylor, Millard Fillmore, Franklin Pierce and James Buchanan, Sarah argued her case:
America was at was, the North against the South. States that had promised to celebrate Thanksgiving changed their mind. The country was falling apart. It was a bleak and scary time.
Think that stopped Sarah? Think again! This time she wrote to President Abraham Lincoln. It was true that the holiday would not stop the Civil War, but, it could "help bring the country together." The letter was sealed and sent.
In 1863, Lincoln made Thanksgiving a national holiday in which all American may give thanks, together.
Not putting too fine a point on it, doesn't Sarah's final push for Thanksgiving during the devastating divide of the Civil War remind you of the huge cultural and political polarization facing the country today, no matter which side of the divide that you happen to fall on?
Maybe this Thanksgiving is the time to put divisions aside as families gather and group around a table and remember that, as we gather, we are also a larger family of 330 million people that face the future, as Sarah Hale did – with boldness and bravery and belief in the future of this nation.
"Thank You, Sarah: The Woman Who Saved Thanksgiving" by Laurie Halse Anderson, with illustrations by Matt Faulkner is the perfect picture book accompaniment to the turkey, yams and stuffing gracing your table this Thanksgiving- and just maybe, even for young readers, just as satisfying!