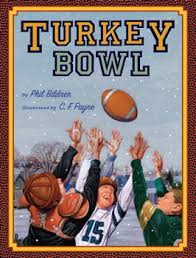 Turkey Bowl by Phil Bildner; illustrations by C.F. Payne
Ah! Thanksgiving is upon us! And as families gather around tables across America, they will also be huddled in front of televisions to watch the college and NFL football games aired that day.
Also, on Thanksgiving, in towns across the country, high school football teams will gather on grass or artificial turf to settle ancient team rivalries.
It's a big day for football!
As the turkey is being readied, stuffing is being poured into the bird and basted to a golden and succulent perfection and cranberries are popping in a pot, as traditions that include a familial football game are also part of the traditional holiday gathering of relatives near and far. Whether played on beaches, farm fields or backyards, competition runs high in these annual events.
Phil Bildner has perfectly captured one family's gridiron contest, aptly called "Turkey Bowl."
Also, alternately christened "Ice Bowl," one year when "Cousin Corey's hair and beard grew frozen stalactites," young Ethan has finally reached the age when he is old enough to participate, and he is pumped.
Wasn't there a similarly named NFL "Ice Bowl," that was played on December 31, 1967? It was sixteen degrees below zero when those brave players and fans in Green Bay, Wisconsin, alongside iconic coaches, Vince Lombardi of the Green Bay Packers and Tom Landry of the Dallas Cowboys, froze in the stands and sidelines. The final score of that Ice Bowl was 21-17 in favor of the steadfast Packers.
But, I digress. Let's hone in on this family's Turkey Bowl.
In previous years, Ethan and his best friend Alex, were consigned to the sidelines watching eagerly as "all the kids from the block shivered and shouted from the first snap to the final score."
Another year, the annual football fest was named the "Fog Bowl" as a fine mist descending on the field, left the players struggling for a sense of direction:
On one play, Uncle Zack couldn't figure out which
direction to run, while on another play Cousin Ryan
ran right into the goalpost!
The beginning scents of Thanksgiving, with its early smell of candied yams and mashed potatoes, wafts up to Ethan's room. It's the big day for relatives from far and wide to start streaming into their house for the feast and the football game. And this year HE can play:
It's here! It's here, he declared, slipping into
his favorite football jersey and pants.
See ya, sidelines! It's Ethan time!
Wait a minute! As he descends the stairs, something is missing. Where are the relatives which are the most important ingredient of all for a festive football romp?
Gently mom tells him about the SNOW! Snowflakes "the size of golf balls" are falling to the already covered ground. Usually a cause for whooping and hollering, it's the cause of a sad reality:
How can we have Thanksgiving without everyone? He pulled
off his helmet. How can we play the Turkey Bowl?
Artist C.F. Payne's pictures perfectly capture the joy of anticipation of a young boy's longing to be "included" in the annual Turkey Bowl tradition, as well as the dejected figure, in uniform, at the front door, looking at the mounting snow storm. It has a homey feeling of recognition that many young readers might find appealing.
As Ethan commiserates with his friend, Alex, and the kids on the block as they sit on the bleachers overlooking a snow filled schoolyard field, an idea hits home.
How about a kids' Turkey Bowl and name it Turkey Bowl Too?
Maybe the "Snow Bowl" might be a better term, as the kids plow onto the field, slipping on the ice and snow to revel in both tackles and touch downs!
And who's that on the sidelines? Could it be Aunt Amy and Cousin Chris cheering from the stands?
Yup! No snow storm can stop Thanksgiving nor "Turkey Bowl Too" from happening!
Young readers will find themselves relating to the overcoming of obstacles with the use of a little imagination and the reinventing of an idea that makes it different from the original, and maybe even better. I can see readers trying this new tradition in their own families, if it isn't a tradition already.
Long live Turkey Bowl Too!!