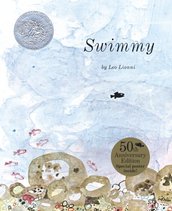 Celebrating 81 Years of Caldecott Award Winners With a Classic Picture Book Swimming in Both Sense and Sensitivity by Leo Leonni
Swimmy
By Leo Lionni
Today the Snuggery is celebrating the picture book artistry of Leo Lionni. Mr. Leonni won four Caldecott Honor medals for his books  – "Inch by Inch" in 1961, "Swimmy" in 1964, "Frederick" in 1968 and "Alexander and the Wind-up Mouse" in 1970.
If you and your young reader have missed out on reading his picture books, I urge you to sample some this as summer ends and fall wafts into view. Mr. Lionni was the first picture book author to use the medium of collage as a way to illustrate them. His use of color is realistic and true to those seen in nature.
With fresh summer memories in a young reader's mind, "Swimmy" is a perfect picture book to introduce a young reader to Mr. Leonni and his tale with a moral at its center, but a tail er tale of a fish at its heart.
Deep in the briny, swims a playful school of red fish. All are red, save one who is "black as a mussel shell". His name is Swimmy and he is the fastest of the bunch. As fate would have it, one day a fierce and predatory tuna fish enters their waters and in one fell swoop, swallows ALL the red fish, save Swimmy , who is able to escape!  He is sad, lonely and fearful at first, but the beauty that surrounds him once again enchants Swimmy.
The picture of the jellyfish that Mr. Lionni creates for Swimmy to chance upon is amazing. Mr. Lionni describes her as "a medusa made of rainbow jelly… This of course may take Mom or Dad down a slight sidetrack (they are always fun) of an explanation of his reference to the snake-headed woman of Greek mythology named Medusa. Please take the detour. It will be fun.
A lobster crustacean is referred to as a "water-moving machine". His coloration of the lobster is magnificent! In fact if I could just duplicate it in a dress for an upcoming event…. But I digress.
Mr. Lionni has fashioned seaweed in variations of lazy blues, browns and greens that are referred to as a "forest of seaweed". "Growing amid "sugar-candy rocks." No above ground forest ever looked as beautiful as this underwater thicket. Anemones and eels are play pals too until Swimmy meets a school of red fish similar to the ones lost to the tuna.
He encourages them to "go and swim and play and SEE things!" Nope! They remind him of the predatory tuna and what will happen if they dare to venture forth. He exhorts them with the rallying cry of, "But you can't just lie there." "We must THINK of something." And the something is a moral by the very picture of what the fish do. They band together as a SINGLE gigantic FISH with Swimmy as its eye!
You can imagine what happens to the predators. They turn tail and run!
Mr. Lionni's tales may be simple, but is art is not and the moral themes that infuse his books remind young readers that there is an order to the universe and it can be righted, if set off course, above or below the sea – if only one fish or PERSON has the courage, and sometimes the necessary help of friends. What a life lesson!
So if your young reader meets a small fish on any summer day, it just might be "Swimmy". But first make the necessary initial introductions via this Caldecott Honor Book. It's a great classic anytime read.