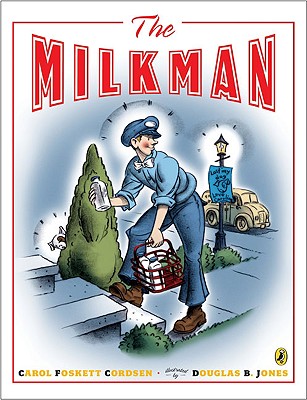 Way Back Wednesday Essential Classic
The Milkman
By Carol Foskett Cordsen, illustrated by Douglas B. Jones
If you've forgotten, moms and dads, or perhaps your young ones are unacquainted with a familiar face and truck that was once part of every small neighborhood delivery system, please read this wonderfully nostalgic picture book called The Milkman. It paints in narrative and illustration a time in American life when people such as Mr. Plimpton, the milkman, were friendly, regular visitors to people's doorsteps and an integral part of the fabric of suburban streets.
School Library Journal, giving it a starred review, conferred a big thumbs up when it stated "……… Jones' cheerful pictures pay homage to classic illustrators such as Lois Lenski and Robert McCloskey….". This is no small praise in its comparison to these two legendary writer/illustrators!  And of course the word, "classic" immediately has enormous appeal for me, and I hope it will for your young readers. They will catch a glimpse with each turn of the page, of a tighter, close knit way of life where community was everything and everyone knew everyone – literally!
Right about the time the rooster crows, Mr. Plimpton is yawning in his green pajamas, slipping into comfy slippers and, a bit later, after a nosh of egg, bread and coffee, he is out the door to follow his delivery route. His routine is comfort itself with the moon and stars still twinkling in the early morning light as he starts his day in a small red pickup, cat aboard, with the radio playing country tunes in the background inside his butter yellow Fairfield Farms delivery truck.
Kids will follow Mr. Plimpton as he first picks up his supplies of ice cream, milk and eggs. There are orders to be filled and with each is a story attached to the house and its residents. Double milk for the Morgan twins' house who has visitors from Kansas, a corner lamppost's sign from Caroline: Lost My Dog is duly noted, Mr. Richards is out the door for his early shift at the grocery store, remember to put a Get Well card next to the eggs at Annie Gail's; she just broke her leg and what is causing that shadow and sound he sees just out of his sight line. Bet you the kids will be telling you and Mr. Plimpton what's causing it before too many pages have passed.  Hint: Mr. Plimpton is a great finder of lost items.
The book is filled with familiar sights and sounds of people who are connected and invested in each other's lives. They call one another by name and the small town flavor of this happy book with Mr. Plimpton, an integral part of this extended family community, is wonderful. At the end of his delivery runs, we see Mr. Plimpton at home with his own family as they start their breakfast – together. They're waiting for him so they can all dig into a mountain of pancakes! 
Please don't miss this chance with your child to see a beautifully illustrated and cheerfully narrated and nostalgic snapshot of small town America as I suspect it once was. Do they still have milkmen? You bet they do. I have one! Cheers for The Milkman!
*****************************************
A Note About Way Back Wednesdays
You may have noticed that many of the Way Back Wednesday books I've selected are Caldecott Award winning books. You may or may know that the Caldecott medal is given yearly to "the most distinguished picture book for children published in the United States beginning with 1937 publications." It is awarded to the illustrator by The Association for Library Service to Children- a division of the American Library Association. The award is named for Randolph Caldecott, who a 19th century English illustrator and here are the criteria for the award:
The book must be published in English in the United States during the preceding year
The illustrations must be original work
The artist must be a citizen or resident of the United States
The book must be considered for the artistic technique employed, pictorial interpretation of story, appropriateness of style of illustration to the story, delineation of plot, theme, characters, setting, mood or information through the pictures and recognition of a child audience
The book must display respect for children's understandings, abilities and appreciations.
The book must be a self-contained entity, not dependent on other media for its enjoyment.
The reason I so often select Caldecott winners for Way Back Wednesday blog entries or videos is because I feel that these stories have stood the test of time. And time is the great leveler. I feel they have something in their themes that still speak to consecutive generations, even though some of them were written 60-70 years ago. They may have fallen off the radar for many parents or grandparents who remember reading them in their youth and so one of my goals is to bring them front and center again for a new batch of readers to enjoy.