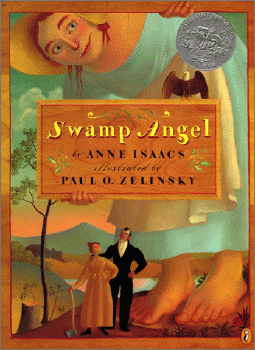 Way Back Wednesday Essential Classic
Swamp Angel
By Anne Isaacs; illustrated by Paul O. Zelinsky
In my Way Back Wednesday segments at the "Snuggery", I try to bring to you and your children the essential classics in children's picture books, and in Swamp Angel, School Library Journal agreed with this choice when it said, "An American classic in the making." And it's a 1995 Caldecott Honor book to boot, so I guess it doesn't get much better than that in accolades! But the true test of a picture book is its visual appeal to children, plus the definite desire to have it read again and again. These two features are two important hallmarks of a classic picture book. And here, in Swamp Angel, they definitely meet. With Paul O. Zelinsky as illustrator, country life and a contest are brought  to life in a golden glow of browns, tans and aquas that are soft, yet vibrant.
Swamp Angel puts me in mind in size and intensity of a female counterpart of that male mythic figure of North American folklore, lumberjack Paul Bunyan. As a tot, his handclapping caused the windows to shatter in his house. The glaziers must have had a field day when his sang that famous kid favorite, "If You're Happy and You Know It, Clap Your Hands!
Paul and his humongous Blue Ox, Babe, supposedly dug the Grand Canyon as Paul casually dragged his huge axe behind him, with the formation of Ft. Hood coming about, as legend would have it, as the duo piled rocks on top of each other to put out their campfire! Yikes!
Well, Swamp Angel is no slouch either. Tennessee's Angelica Longrider might have proved the perfect date and equal for Paul. Building her first log cabin at two, lassoing a tornado and drinking an entire lake dry, certainly put Swamp Angel, as Angelica was dubbed, in the same mythic category as Mr. Bunyan.
The name Swamp Angel sprang spontaneously at the tender age of twelve when she strode confidently into Dejection Swamp lifting a group of abandoned settlers' covered wagons to higher ground as onlookers gasped, "It's an angel."
But kids will love reading about Swamp Angel's biggest challenge that comes in the form of a furry bruin of an opponent called Thundering Tarnation. Can't you just hear Davy Crockett exclaiming that name with his Tennessee twang? Hey, this bear is nimble and knowing, with fur so thick even a pellet has never penetrated his skin! Tarnation goes on a foraging frenzy leaving the previously well-stocked root cellars of settlers pretty bare (heh heh) for the harsh winter ahead.
What better way to confront this marauder than to offer a competition with the reward being   Tarnation's pelt, plus the ego boost and bragging rights of earning the title of Champion Wildcat. And kids will know who's just hankering for a shot at that title. Why, Swamp Angel of course.
Your young readers are in for the greatest bear-wrestling event since bruin met man er girl. Swamp Angel is up for the fight as is Tarnation and it is a battle royal with the fur literally flying!  Hint: Not to give away the outcome, but if you and the young'uns have a hankering to see Tarnation's pelt, sashay on over to the Shortgrass Prairie in Montana where it is rumored to lay in front of Swamp Angel's Door. And if your small ones start feeling a bit sad for poor ole Tarnation, tell them to look up at the sky where his outline can be seen on any clear night. What a fitting tribute Swamp Angel fashioned for Tarnation – and well deserved!
**************************************
A Note About Way Back Wednesdays
You may have noticed that many of the Way Back Wednesday books I've selected are Caldecott Award winning books. You may or may know that the Caldecott medal is given yearly to "the most distinguished picture book for children published in the United States beginning with 1937 publications." It is awarded to the illustrator by The Association for Library Service to Children- a division of the American Library Association. The award is named for Randolph Caldecott, who a 19th century English illustrator and here are the criteria for the award:
The book must be published in English in the United States during the preceding year
The illustrations must be original work
The artist must be a citizen or resident of the United States
The book must be considered for the artistic technique employed, pictorial interpretation of story, appropriateness of style of illustration to the story, delineation of plot, theme, characters, setting, mood or information through the pictures and recognition of a child audience
The book must display respect for children's understandings, abilities and appreciations.
The book must be a self-contained entity, not dependent on other media for its enjoyment.
The reason I so often select Caldecott winners for Way Back Wednesday blog entries or videos is because I feel that these stories have stood the test of time. And time is the great leveler. I feel they have something in their themes that still speak to consecutive generations, even though some of them were written 60-70 years ago. They may have fallen off the radar for many parents or grandparents who remember reading them in their youth and so one of my goals is to bring them front and center again for a new batch of readers to enjoy.