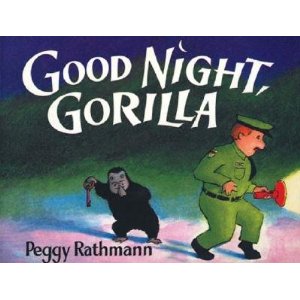 Way Back Wednesday Essential Classic
Good Night, Gorilla
By Peggy Rathmann
Kids love a trip to the zoo and in Peggy Rathmann's Good Night, Gorilla a collection of animals get a night time view of the zoo. Outside of their cages, courtesy of an impish gorilla! As an added bonus they get to trot inside the zoo keeper's house for a peek and share a cuddle with the lucky twosome, to the complete surprise of the zoo keeper's wife.
Picture it. Mischief is in the air at the zoo. A silver sliver of a moon hangs over a blue sky as the green clad zoo keeper, flashlight in hand, head bent low with weariness goes through his rounds bidding each of the inhabitants of the zoo goodnight. He starts with the gorilla cage of course, with a "Good Night, Gorilla". What he doesn't see is the small furry hand leaning out of the gorilla cage grasping the keys of each of the successive zoo cages. As he tip toes past each one of the cages the doors swing open for the elephant, the lion, hyena, giraffe, armadillo and of course a tiny mouse with a small banana attached to his tail, to find their way to freedom while he finds his way wearily to his home.
Kids will chuckle at the parade of animals following the zoo keeper to his home. What Peggy Rathmann is able to capture perfectly in this wonderful picture book, is the normality of the surrounding of the zoo in the quit town asleep and the absurd parade of animals following the zoo keeper, into his house up the stairs and into his bedroom. Kids are certain to laugh at the picture of the zoo keeper's wife asleep in her bed, as she bids a goodnight to her husband and the instant reply to six goodnights to her "Goodnight Dear" is wonderful for the reaction and look on her face as she opens her eyes and sees what is surrounding and IN her bed.
Her trudge back to the zoo is a reversal of her husband's goodnight to each of the inhabitants. Only this time she is on the reverse trip, but kids will smile as they see a small furry gorilla, fingers to his lips, keys in his hand following her back to their bed as she bids a good night to the zoo. Good Night, Gorilla this is no ordinary trip to the Zoo, but one your child should definitely take.