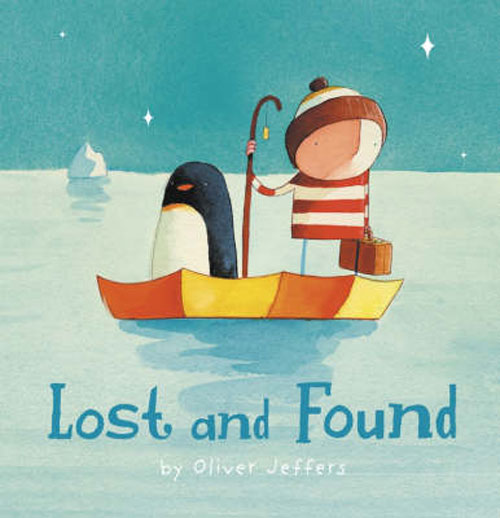 You don't know what you got til it's gone…
Lost and Found
by Oliver Jeffers
Oliver Jeffers' warmly charming, "Lost and Found" with its theme of unlikely forged friendships reminded me of another book of an equally unlikely friendship called, "Amos and Boris" by the famous William Steig.
In Jeffers' book, the friendship is between a small boy and lost penguin while Steig's book features a "mote" of a mouse and a kindly giant whale. Both encounter journeys entailing hardship, finding common ground, growing respect between the unlikely duos and a realization that friendship, once found, is precious, rare and worth keeping.
In "Lost and Found" a penguin shows up at a small boy's door looking sad. The child's immediate conclusion leaps to sadness borne of his lost status and so the journey to the penguin's artic domicile begins, as it seems a logical explanation for the penguin's sadness. Encountering hazards of all sorts, the two form a bond of closeness and trust.
The ending is wonderful and warm as the boy, on reaching the frigid north, and dropping off his companion, quickly realizes "lost" also includes "lonely", which has but one simple remedy–a reuniting of the travelers. Folk song writer Joni Mitchell perhaps said it best with her line, "You don't know what you got til it's gone…" Happy the twosome who do and the picture book readers along for the ride.