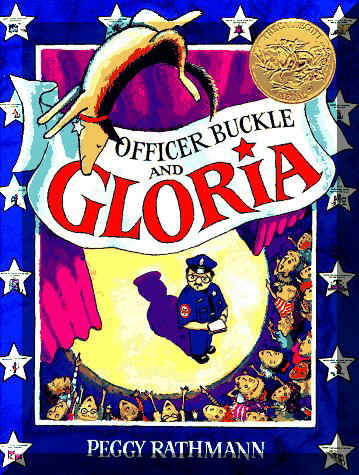 Way Back Wednesday Essential Classic: Celebrating 75 Years of the Caldecott
Officer Buckle and Gloria
By Peggy Rathmann
Last week, I gave a thumbnail sketch of the history of the Caldecott Medal awarded yearly for the most distinguished picture book of the preceding year. This week I'd like to start the celebration here at the Snuggery by showcasing one of the ten books seen on the Anniversary logo which can be viewed on my site. It shows ten iconic figures selected from books that have been awarded the Caldecott from its inception in 1938 till the present.
If you look at the logo you can pick out the canine police dog, Gloria, from Peggy Rathmann's Caldecott winner from 1996, Officer Buckle and Gloria. There is a saying in the world of acting that goes something akin to "Never share the stage with children or animals". I guess actors may feel they can be natural, unpretentious and stealers of the spotlight. You know what, I think they're right. Well, if this has the ring of truth to it, it is certainly borne out in Officer Buckle and Gloria. I remember reading this book (and it is a perfect read aloud) to a group from PS 321 in Brooklyn, New York several years ago. They laughed and thoroughly enjoyed the book since as an added bonus to the reading, I brought my own life size Gloria along, stuffed of course.
Officer Buckle is a Safety Officer who diligently visits elementary schools in Napville dispensing safety rules that kids promptly ignore. Nobody listens. But the moment The Napville Police Department buys a police dog named Gloria student interest levels begin to soar. Standing slightly to the side behind Officer Buckle and out of his sight line as he intones each numbered Safety Tip, Gloria, a gifted comedienne, pantomimes Officer Buckle's rules to hilarious effect. "NEVER leave a THUMBTACK where you can SIT ON IT!" As you can imagine, Gloria's mime of this causes roars of laughter from the audience.
Officer Buckle treats Gloria to ice cream as the letters of praise pour into the Police Department and Officer Buckle, never able to catch the clever Gloria at play behind him, feels HE is a success and at last getting through.
But wait, what happens when a television team videotapes Officer Buckle and Gloria as he finishes up at the state college with Safety Tip Number Ninety-Nine, DO NOT GOING SWIMMING DURING ELECTRICAL STORMS! Students applaud wildly as Gloria is in full acting mode behind Officer Buckle and as the Bravos echo through the auditorium, Officer Buckle is humbled, bowing to the crowd.
BUT, that night Officer Buckle watches he and Gloria on the ten o'clock news! Gloria is found out.
Officer Buckle is crushed and refuses to give any more safety speeches while the requests pour in for Gloria! Can Gloria go it alone without her buddy? Can Napville School recover from its biggest accident ever from a spilled puddle of banana pudding?
Please pick up "Officer Buckle and Gloria" to find out if Safety Tip #101 can fix things. ALWAYS STICK WITH YOU BUDDY! Good advice kids! Peggy Rathmann's book is a great blend of humor and safety tips made memorable by the duo of Officer Buckle and his faithful applause hound, Gloria.