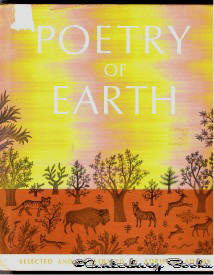 Earth Day Essential Classic!
Poetry of Earth
Selected and illustrated by Adrienne Adams
Did you know that Earth Day started way back in the 1970's? For many it marks, as a website quotes, "the birth of the modern environmental movement."
Way back in 1962, author Rachel Carson began the run up to concern for the environment with her New York Times bestseller, "Silent Spring." It generated with its sale of 500,000 copies in 24 countries, a call for public awareness of concern for the gradation of the environment and by inference, its impact on public health.
Change is a hard thing to measure and it is usually only measurable AFTER it has occurred.
That is why the picture book's value in its ability to both entertain and enlighten, is so underrated in some quarters in the sometimes headlong drive to get to the chapter book. So much is missed and discounted in what the picture book has offered in the past and continues to offer in the present. And Ms. Adams' book is a perfect example.
Adrienne Adams is the winner of two Caldecott Honor books in 1960 and 1962 for "The Day We Saw the Sun Come Up" and "Houses From The Sun". Both were done with text by Alice E. Goudey.
She is also the illustrator of ALA notable books for her Grimm's Brothers versions of "The Shoemaker and the Elves, "Jorinde and Joringel," and "Thumbelina" by Hans Christian Andersen.
In "Poetry of the Earth," Ms. Adams has chosen thirty-three poems from renowned poets such as Robert Frost, Randall Jarrell, Carl Sandburg, William Butler Yeats, and Edna St. Vincent Millay, celebrating everything from buffaloes to bats, snails to specks, sandhill cranes to squirrels and tiger lilies to tortoises.
Listen to this small sample from Robert Frost's, "Dust of Snow":
"The way a crow

Shook down on me

The dust of snow

From a hemlock tree"

Has given my heart

A change of mood

And saved some part

Of a day I had rued."
Young readers, once you get past their understanding of the word, "rued", will certainly get the visceral feeling of how one single moment can change a day; one small second in time can change a minute from moody to merry. Kids do it all the time; it's part of being a child!
And its impetus for them can be a poem, a line from a book, a hug, a smile, or a touch of the hand.
Let Earth Day this year, and books that echo both the shelter and nourishment it gives humanity, be the jumping off spot for a teachable moment with young readers. Share books with them that celebrate how wonderful and healing the earth can be; what a sacred space it is, and how much it is in our care.
And guess what? Since April is also National Poetry Month, Ms. Adams delightful and timely picture book is a "two fer"
Below is a link to 50 fun and engaging hands on Earth Day Activities for young ones.