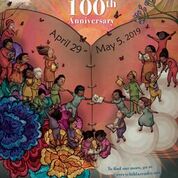 Make EVERY Week Children's Book Week! It's Never Too Late To Celebrate Its 100th Anniversary!
Established in 1919, Children's Book Week, administered by Every Child a Reader and The Children's Book Council, is the longest running national literacy initiative in the country. It sparks events nationwide each year at schools, libraries, bookstores, and homes to nurture the connection of young readers and books.
The poster this year features the art of Yuyi Morales receiver of the 2019 Pura Belpre illustrator award for Dreamers and an Caldecott Honor Book Award in 2015, for Viva Frida.
Though the actual celebration was April 29 -May 5, with activities going on in schools, libraries, book stores and homes, I see no reason why a one week celebration can't be extended!
The slogan this year depicted on the poster for 2019, illustrated by Yuyi Morales  is…Read Now * Read Forever. What a great slogan!
In addition, there will be a 12 artist collaborative poster revealed in stages one panel at a time throughout the year.
The 12 artists are:
Sophie Blackall
Eric Carle
Bryan Collier
Grace Lin
Juana Martinez-Neal
Barbara McClintock
Frank Morrison
LeUyen Pham
James E. Ransome
Erin Stead
Melissa Sweet
Raina Telgemeier
Each will be available to "print and distribute to children, teens, and book lovers everywhere."
And it's the perfect time to introduce your young reader to some classic and timeless tales whether it be fables from Aesop, fairy tales from the Brothers Grimm, American Tall Tales, A. A. Milne's "Winnie the Pooh", Carlo Collodi's "Pinocchio", Antoine de Saint-Exupery's "The Little Prince," L. M. Montgomery's Canadian classic, "Anne of Anne Green Gables" folk tales from "1001 Nights" or any number of others from world's away.
There's a feast of reading awaiting a place at your young reader's table.
Here's a link to a list of 18 Classic Children's Books from Around the World.
Please start to dig in this week!
And I've also included links both to activities that you may download to continue the reading fever of this 100 Year Anniversary, in addition to some history of the organization called Every Child a Reader.
https://www.buzzfeed.com/dianabruk/popular-childrens-books-from-around-the-world?utm_term=.rpj146jK4#.jo3bZJR9Z
https://everychildareader.net/cbw/for-schools-2019/