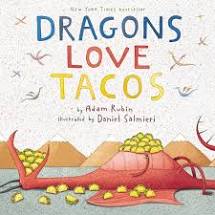 Today is National Taco Day! Do You Think Adam Rubin's Picture Book Party Dragons of "Dragons Love Tacos" Know? Hold the salsa, please!!
October 4, 2021 is the twelfth celebration of something called National Taco Day. According to the Farmer's Almanac, National Taco Day was begun by the restaurant chain known as Del Taco in 2009.
In a 2012 interview with Smithsonian Magazine, Jeffrey M Pilcher, professor at the University of Toronto, opined that it is "unknown when the word "taco" was invented, but is believed to have begun in the silver mines in Mexico in the 18th century."
According to Pincher, the miners called the pieces of paper wrapped around the gunpowder and placed in the rock face, "tacos."
"When you think about it, a chicken taquito with a good hot sauce is really a lot like a stick of dynamite, Pincher told Smithsonian Magazine., adding that it wasn't until the end of the 19th century that it was mentioned in an archive or dictionary."
Again, quoting the Farmers Almanac, "Mexican immigrants were selling tacos in the southwestern U.S. as early as the 1880's and by the 1920's were adapted to appeal more to the American palate.
And, as far as adapting to the palate of dragons and THEIR affinity for tacos, why not have your young reader dive into "Dragons Love Tacos," by Adam Rubin with a tasty side dish of art by Daniel Salmieri, to see what dragons taste buds like…..and abhor!!!
Below is a link to my take on the picture book about taco loving dragons…….and what to avoid in the process of serving the tasty taco….to a dragon.
https://lizsbooksnuggery.com/2014/07/dragons-love-tac…-daniel-salmieri/ ‎