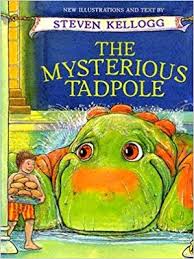 Beware of Scots Sending Gifts; Especially if Their Name is Uncle McAllister and the Gift's Name is Alphonse!
The Mysterious Tadpole
By Steven Kellogg
Have forty three years really passed since a certain Uncle McAllister from Scotland presented his nephew Louis with that "small tadpole" of a birthday surprise named Alphonse? Mr. Kellogg also gifted the picture book world in 1977 with his fantastic tale for young readers filled with just the right amount of adventure and humor. Hey, after all, what kid wouldn't love such a gift
In digging deeper, information is uncovered about Alphonse through the research of a certain librarian, Ms. Seevers. She surmises the tadpole's place of origin comes from a well-known lake in Scotland called, you guessed it, Loch Ness. Her spot on research is quickly confirmed via a transatlantic phone call to Uncle McAllister back in Scotland and bingo, Louis finds himself in possession of no ordinary wee tadpole and certainly no ordinary pet.
But, tell me what kid wouldn't salivate at such a distinctive kind of show-and-tell for school!
Prior to the true identity of the tadpole's being revealed, Ms. Shelbert, Louis' teacher, asks Louis a fateful question: "Class, here we have a splendid example of a tadpole." "Let's ask Louis to bring it back every week so we can watch it become a frog."
Sounds right? Wrong. Alphonse is changing all right, but into a frog? Not unless frogs have suddenly grown into frisky and friendly mammoth creatures of unusual size.
What follows is an essential classic that has captured children's imaginations for, well, forty three years.
Apparently, critics and readers agreed wholeheartedly in their praise for the book as evidenced by its continued longevity. First published in 1977, as mentioned previously, it was an ALA Notable Book, an IRA-CBC Children's Choice and won Bank Street College's Irma Simonton Black Award.
How's that for kid and critic applause.
An anniversary edition of one of Mr. Kellogg's most popular books has been enhanced because of additional color print technology now available that gives it an enhanced brighter boldness of color.
In addition, there are additional plot twists from the original and new illustrations as well which add to the enjoyment of this "tadpole from Scotland" showing his continuing popularity growth, literally and figuratively, in the community.
This re imagining of the story of Louis and Alphonse had been percolating in the mind of Steven Kellogg for some time as he relates in his "A Note from the Author":
When the editors suggested I consider putting together a revised

and re–illustrated anniversary edition, I eagerly accepted the

invitation. With the passing years I realized there were nuances

of character, sequence, and plot that I wished to explore in the

original version and now I had the chance.
If you've read the original, as I did with my "kids" back in 1977, this edition is as fresh and inventive as the first with a bit of the Kellogg twist to this new take. It's a winner, as is Mr. Kellogg, of the Regina Medal for his lifetime contribution to children's literature.
Please introduce or reintroduce your young ones to this mysterious birthday gift from Scotland called The Mysterious Tadpole, aka Alphonse, whose popularity remains, undiminished – unlike his size!
But continue to watch out for that surprise birthday gift from Scotland the returning Uncle McAllister tries to pass off as a "curious stone" at the story's close. Curious stones have a funny tendency to pop open and grow – as do "tadpoles".
And isn't it lucky for young readers that they do!