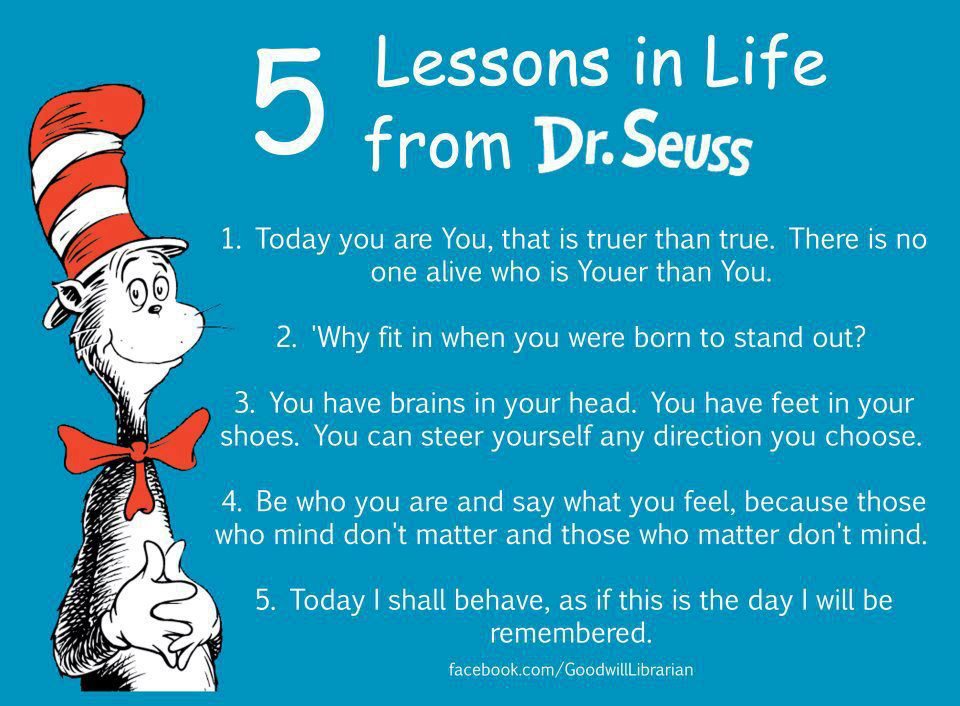 Cancel or Educate? Just Because We Can, Should We?
HAPPY BIRTHDAY, DR. SEUSS!
I am sure that many of you have heard by now of the cancel contretemps concerning certain titles by children's picture book author, Theodor Geisel aka Dr. Seuss.
It seems to have come to public notice during "Read Across America" on March 2, 2021 which also happens to be Dr. Seuss's birthday and was, since 1998, celebrated on that date.
That particular date was chosen by the National Educational Association to "….celebrate a new holiday focused on promoting children's literacy." That was then and this is now.
Seuss died at the age of eighty-seven in 1991.
But, "the times they are a changin','" as Bob Dylan twanged on his guitar, as Dr. Seuss's name was scrubbed this year by President Biden from the presidential proclamation honoring the day and that because it appears the author was accused of including in his books, "racial undertones" in these classics for children that are full of warmth, wisdom and whimsy.
Change is definitely in the air as then California Senator Kamala Harris, in a tweet on March 2, 2017 previously wrote, celebrating Dr. Seuss and the day:
"Happy Birthday, #Dr. Seuss! "The more you read, the more things you will know. The more that you learn, the more places you'll go"
Some libraries have even removed them from the shelves, particularly one in Virginia, lest children's sensibilities be compromised.
Apparently much of this emerged from a recent study that "highlighted a lack of diversity" in the picture books of the beloved author of "The Grinch Who Stole Christmas, and so has been banned and booted….and sadly is not alive to defend his intent.
The six titles in question are:
If I Ran the Zoo

And to Think That I saw it All on Mulberry Street

McElligot's Pool

On Beyond Zebra

The Cat's Quizzer

Scrambled Eggs Super
In writing this blog I found that the six titles are not printed anymore and hence are rare in that many book stores do not even have them on their shelves. They are a bit of a rarity even before this contretemps ensued.
Dr. Seuss Enterprises, caretakers of of his publishing legacy announced it will cease publication of the six titles in question.
And, since this kerfuffle, these six titles have been grabbed up on sites that feature rarer titles and it appears that they will increase in value over time.
Let's say for the sake of argument there are subtle overtones in the six, should they be banned….or a bridge too far, burned in a conflagration of cultural unease?
I say no and here's why.
Parents should decide what is right and proper for their children to read.
Should we cosset and insulate children from everything that is the least bit offensive to someone? That could include a verrrrry long list of books.
Laura Ingalls Wilder was under attack by the American Library Association a few years ago when her name was removed from the award begun in 1958 and named for her because of her body of work and its contribution to children's literature.
Ostensibly it was removed because of the use of the word "darkie" and a line that read something to the effect that "…..no people lived in the territory, only indians."
No historical perspective was taken into account or the teachable moment allowed in "The Little House on the Prairie" series by Ms. Ingalls Wilder. Her name was stripped from the Award and it is now called the Children's Literature Legacy Award, because the former title of the award, did not, ahem, reflect the "values of the ALA."
So called experts on children's literature usually make these decisions and I begin to wonder if focus groups of every day parents are consulted in the frenzy to cancel.
Thank heavens the New York Public Library declared that it would not pull these six titles of Dr. Seuss from their shelves. And, added that they are not checked out that often.
In a recent article by Keith J. Kelly, Dr. Seuss title sales are up some 34% last week. Who are the purchasers? Parents that want to think for themselves what their children consume and read.
And not to put too fine a point on it, here is a quote from Dr. Seuss from ""Oh the Places You'll Go:"
"You have brains in your head. You have feet in your shoes. You can steer yourself any direction you choose. You're on your own. And you know what you know. And YOU are the one who'll decide where to go."
Wise words that speak of personal responsibility, judgement and the long view of the perspective called history.
Here is a quote that sums up the dangers of erasing historical perspective and one that I heartily agree is true, though the attribution is unclear:
"History is not

there for you

to like

or dislike.

It is there to learn from it.

And if it offends you,

even better.

Because then you

are less likely

to repeat it.

It is not yours to erase.

It belongs to all of us."

Unknown