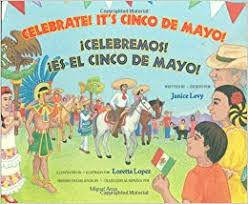 Celebrate May 5th with Cinco de Mayo…and a Fact-Filled Picture Book for Your Young Reader!
If you're searching for an introductory picture book for your young reader on the what and why of Cinco de Mayo, here is a place to start.
I think it's important for young readers to understand not merely the celebratory components of a holiday, but its historical basis.
Janice Levy's narrative in Celebrate! It's Cinco de Mayo, coupled with Loretta Lopez's bright and bountiful illustrations, accomplishes this by taking the hand of a reader through one family's celebration of Cinco de Mayo. It's an English/Spanish edition which I think is great for encouraging bi-lingual content for new readers.
Here are two reviews of this picture book:
" Perfectly targeted at young listeners who may be celebrating Mexico's favorite holiday without knowing why."
Kirkus Reviews
" Presented in an appealing and accessible manner, this offering will serve its audience well."
School Library Journal
In my research for this blog, it gave me insight into the celebration of this Mexican and Mexican/American celebrated holiday.
Celebrations for Cinco de Mayo occur big time in Puebla, Mexico, where the famous Battle of Puebla, took place between the Mexican and French forces on May 5, 1862.
Under the leadership that particular day of General Ignacio Zaragoza, the Mexican army was victorious, but with the actual Franco-Mexican War continuing from 1861-1867.
Cinco de Mayo or Fifth of May, celebrates this victory, BUT is not Mexico's independence day, which is celebrated on September 16, 1867.
During the celebration of Cinco de Mayo, the colors of red, green and white are in abundance everywhere. People dress up as French and Mexican soldiers and march in parades that mark the victory.
If you would like your young reader to have a peek at another culture's holidays, as the world grows ever smaller and much more diverse, Cinco de Mayo is a place to start with your young reader, and perhaps, Celebrate! It's Cinco de Mayo! is the picture book place to start.
Picture books as information and entertainment, as usual, are well….wonderful!