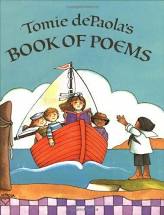 Celebrate April and Young Readers with its Designation as National Poetry Month with a Classic Tomie DePaola Picture Book called "Tomie dePaola's Book of Poems"
Okay, for a number of reasons, it's been a tough couple of years.
Yes, there's Covid-19.
It's been a pandemic that is perplexing and turned everything in a usually crazy culture, even crazier.
I guess that's why I read classic picture books; and try to put them on the radar of young readers and their parents.
Their stories and art are, to me, curiously calming and cultivated with a child's sense of wonder.
Many are from a time when life just seemed easier, simpler, and less unnerving.
On March 30th 2020, Tomie dePaola passed away.
He was a friend and a national treasure for the world of children's literacy.
So, aside from being sad, I decided to start writing about him and his legacy which would be his vocation with children's books.
And so, from time to time, I will write about Tomie and many of his books that escaped my notice.
In April, we celebrate National Poetry Month, which is a segue to "Tomie dePaola's Book of Poems."
Published in 1988 by G.P. Putnam's Sons, it's a treasure AND a treasury of poetry for young readers.
I was immediately drawn to the cover with its bold aqua sky and an orange sail boat with three young seafarers coming to shore to greet a fourth.
In the bow of the boat is a young girl with an opened book. She's reading and fully absorbed.
His art is eye catching and evocative of each poem, as each is surrounded by a border that draws the eye first to the poem, and only then, to the art.
And when I opened Tomie's book, I was immersed, as I hope your young readers will be, as this is a book of a collection that is worth having and gifting.
Its compilation of poetry is wide ranging and wonderful.
He had gathered poems and poets from William Blake's "Song's of Innocence to a folk rhyme called "Old Noah's Ark."
There's Dylan's Thomas' "The Song of the Mischievous Dog, Vachel Lindsay's "The Moon's the North Wind's Cooky," Phyllis McGinley's "We're Racing , Racing Down the Walk, Jack Prelutsky's 'The Witch, Christina Rossetti's "The Swallow," Margaret Wise Brown's "Little Donkey Close Your Eyes," T.S. Eliot's "Song of the Jellicles"…and even among the lot of lovely lyrical poetry is an autobiographical one by Tomie:
The Secret Place

It was my secret place–

down at the foot

of my bed—

under the covers.

It was very white.

I went there

with a book, a flashlight,

and the special pencil

that my grandfather gave me.

To read–

and to draw pictures

on all that white.

It was my secret place

for about a week–

Until my mother came

to change the sheets.
This was a true story from Tomie's childhood of his early explorations in art and somehow, when I look at Tomie's illustration of the young mother holding up the white sheet to him, with all its imaginative drawings, my sense is that his mom, Flossie Downey DePaola, was just the least bit proud at the tenacity and inventiveness of this budding artist.
We, who are the recipients of the legacy of some 270 of his books, are as well.
The copy I have of this book is a second-hand one and as I opened it, on the front left orange cover boards was a happy-faced drawing by someone named Sarah Doyle who wrote…"Poems Cool!"
I agree, Sarah, wherever you are.
And Tomie would, as well. His books and art still speak to young readers.
All you have to do is open one to hear his heart beat for the joy of writing and drawing for them; even today.