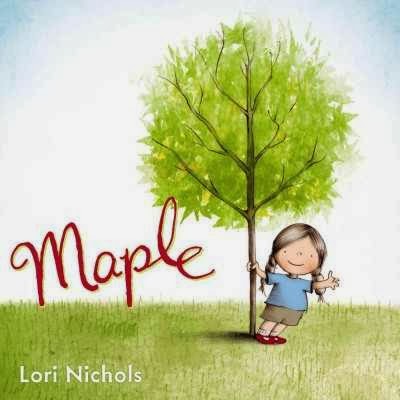 Celebrate Earth Day Today with "MAPLE!"
Maple
By Lori Nichols
Recently I was coming out of a local breakfast gathering place in our small town. It happens to be next to the Historical Society's building, and as I put my hand on the door handle of the car, I glanced down at a brass plaque in the grass at my feet. It jogged my memory to something I had intended to do, but had forgotten; and that was, to plant a tree.
The town has a program to honor someone with the planting of a new tree. For a donation, the tree is planted along with a brass plaque at its base, inscribed with the name and details of the life of the honoree. I meant to do it for my parents. Sort of says, "I was here" and someone recognized that fact. It's a look backward at a life, as compared with the look forward method celebrated in a picture book that BEGINS with a planting.
Meet Maple. Even BEFORE her appearance, her parents plant a tiny maple tree in her honor. With the planting of that tree variety, comes the perfect name for the soon-to-be-born infant dovetailing rather perfectly with the tree planted – Maple!
Trees symbolize so many things to me, but chief among them are change and growth. And so it is with young Maple. She grows AND changes side by side with her namesake. I love the sense of camaraderie and acceptance that Ms. Nichols builds between the arboreal maple and the human one. If Maple is having a bad day, she visits her leafy counterpart. She sings to it, sways for it and even pretends to BE it. Sweet!
The maple's leaves provide shade and a place for dreaming amid its branches, but as the seasonal changes inevitably occur and colder weather ensues, the branches are blown BARE! What's the young Maple to do for her namesake? Why enfold it with her jacket, of course. It is absolutely something a child would do. Instinctively, they seem to want heal the hurting and protect the defenseless. But as we grow older, it sometimes seems a struggle to stay in touch with that basic instinct that we had as children. Thanks for the gentle reminder, Ms. Nichols!
Through a winter that sees new friendships born of snow, via the making of a snowman, Maple finds THAT friendship literally disappears with the appearance of warmer weather. But no matter, Maple and her tree are a forever friendship.
Remember what I said earlier about trees symbolizing growth AND change? What is young Maple to think when she sees a NEW tree planted by her parents? Yup, she is soon to be the BIG SISTER! And Maple is nothing if not adaptable to new situations, sharing HER hat and gloves if the new sibling seems cold, and introducing HER playthings to the baby for amusement. But even young Maple discovers babies can have their fussy times when you wonder WHAT next to try to pacify.
Maple remembers what and who soothed HER, and if past can sometimes provide prologue, then the solution is a simple one; the leafy shade of her tree and the dancing shadows that provide diversion is a nearby solution to this age-old problem. And so the theme of this picture book of nature as friend is both soothing and satisfying.
And lest you think ANOTHER maple was planted for the new arrival to the family, you need not be surprised as Ms. Nichols is wise enough to know that just as no two trees are EXACTLY the same, no two children are EITHER! The new baby's name and the tree planted in honor of her coming are both named WILLOW!
Lori Nichols has written a book taking the themes of siblings, growth and change and woven them all into a simple tale with a symbolically strong message for parents and young readers. Her art is perfectly matched to the story with Maple's soft blue shirt, tan pants and standout red maryjanes, painting a picture of a charming child going through every day events that may SEEM every day, but actually mark milestones of growth in her life as reflected in nature, not merely numerically, but emotionally.
And, oh yes, before I forget, I have TWO trees to plant, mom and dad!