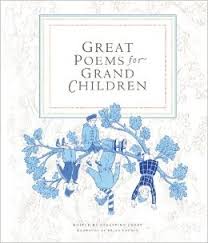 Be Poetic With Your Grandchildren During April; It's National Poetry Month!
Great Poems for Grandchildren
Edited by Celestine Frost; drawings by Brian Cronin
Are you tired of visiting grandchildren who stare at one of their many device screens, as they text, twitter, or sit plopped in front of the TV, during their time spent with you?
How can you lure them away from what I venture to say may be the big competition for what used to pass as conversation, during a family get together? Can it be done? Can even meals be enjoyed without the sound of the tap tap tapping of device keys?
Well, Rome was not built in 24 hours as they say. But, why not try a new approach?
As April is National Poetry Month, here is a marvelous book for grandparents that should start the imaginative conversation going…maybe slowly at first…but… it's a start.
Compiled by the editors of AARP, they have gathered a pretty remarkable collection of poems to be shared, read and recalled, perhaps by you, yourself, and then passed on to the next generation.
 Among all the different kinds of

 literature, poetry is the most

 imaginative – and the one closest

  to children's creative spirit.
So says the fly leaf quote from this extensive compilation of poetry, including clusters of categories that go from "Nursery Rhymes, Tongue Twister and Nonsense Verses to Bedtime, from Friends and School to Animal Friends, from Fairies, Witches, Goblins and Company to Wise Words, and some, under the heading of My Country.
And that's just a taste of the fourteen poetic categories that go on to include Heroes, True Love, and Creator and Creation.
Here is jammed packed generational wisdom to be shared with the young and the not-so-young, from words written by some of the poetic greats such as Longfellow, Yeats, Whitman, Kipling, Dickinson, Shakespeare, Tolkien, Coleridge, Masefield, Lear, Hughes, Blake, Frost, Hopkins, and Jonson. And that's just a smidgen of what lies beneath this book cover.
There are plenty of more modern takes on the poetic to be enjoyed as well, such as  Maya Angelou and Shel Silverstein.
And while you're sharing with your grandchildren, you'll perhaps be jogging a few memories of your own. And they just might be poems you remember from your own childhood.
Children stand on the shoulders of the shared wisdom and experience that is held in trust by their elders.
Why not make a start this April in sharing the wisdom you've gleaned and gained from a lifetime of living. I venture to say quite a bit of it resides in many of these poems, conveniently compiled by AARP.
And, they've made it easily indexed for search, according to:
First Lines

Authors

Titles
The love of literature, and poetry in particular, contains in dense form, quite a bit of that grandparental wisdom, just waiting to be shared.
The reading of a poem can open up family conversations that go in a multitude of directions, drawn from the experiences of both listener and reader alike.
So, strike a blow for poetry and conversation at the same time, with a reading of Great Poems for Grandchildren. You, and they, will love the poems and, as Maya Angelou says:
I love the book and the look of words,
the weight of ideas that popped into my
mind.
I love the tracks
of new thinking in my mind.