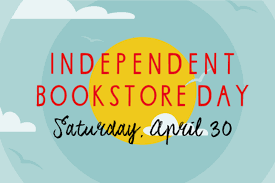 Celebrate Independent Bookstore Day!
April 30, 2022
Today is a perfect day to celebrate the independent brick and mortar local book store.
True, in order to stay in business today, they may be selling more than books.
They may be selling greeting cards, wrapping paper, games, gifts and a host of other things.
But what I am alluding to, in a round the bush way is that there is a price to be paid, in some quarters, for our societal need for the immediacy of acquiring things… and books in particular.
What can fall by the wayside, in this case, is the local bookstore.
Ask yourself this question to prove my point.
Is there a local book store in my town?
Was there one in the recent past and did it close?
Probably one of the reasons for its closing might be that its inventory of copies of books, including best sellers, cannot compete in the numbers of given titles with online stores, such as Amazon.
So today, or any day soon, take the time to visit a local brick and mortar book store; they are usually community gathering spots with lots of knowledgeable people on hand with suggestions on new reads.
Once sold out, local book stores must reorder and the turnaround times for delivery are usually outside the scope of wait time most consumers will tolerate.
Why you may ask is that the case?
Result? Order online is what most people will do.
And so, on "Celebrate Independent Bookstore Day", here's something to ponder:
Reading is a pleasurable experience that takes time; it is an investment in either learning something new or letting go of the now, into the land of the imagination.
Let your child wander through their children's reading section; some may even have children's story hours that you can attend with your young reader.
Why not make them aware of your favorite children's authors and ask them where the Caldecott and Newbery Award winning children's books are kept.
Did you know this is the 100th Anniversary of the Newbery Award? So, I venture to say they may be there on full display.
Take the time to visit.
Like reading, it is time well spent and once you get into the habit of buying children's book locally, you will love it…and so will your young readers.
And there are a host of easily available ways to have that accomplished; Amazon is just one of those ways to enhance deliverability of a book, whether it be a digital book or another purchase.
I am not decrying the need for any of this or the fact that it serves a purpose, and certainly during the pandemic, it did and continues to.
But I believe that the experience of walking through a physical bookstore has certain advantages not possible in a virtual bookstore. The smell of the paper, the tactile feel of running your fingers over a page. and additionally the advice of a sage bookseller who knows your personal preferences from past visits all combine to enhance your reading pleasure.
It's a family reading adventure worth having.