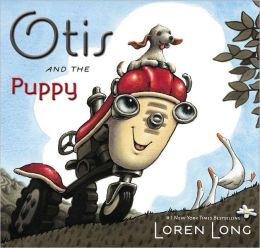 Confronting One's Fears with a Pal by Your Side!
Otis and the Puppy
By Loren Long
If your young readers are fans of the small red and beige tractor named Otis, you're in for a treat with this newly released picture book called "Otis and the Puppy". Loren Long, #1 New York Times Best Selling author of the Otis series that includes both "Otis" and "Otis and the Tornado", has another winsome adventure for this lovingly human machine of a tractor. Otis's familiar putt puff puttey chuff is a welcome sound. But add in a puppy to the farm scene for Otis to shepherd and the Aww quotient goes up by three.
Otis has established quite the community of farm animals to play hide-and-seek with when the workday is over. The little calf young readers met in the first "Otis" plus a menagerie of a horse, bull, ducks and other members of a farm are eager to greet the newest edition to the barnyard community – a puppy.
The themes of friendship and fear are covered with a reality, yet an endearing accessibility to children, that are the hallmarks of Loren Long's books.
Otis, you see, can fully relate to the plaintive cries of the puppy consigned to his doghouse on the first night after the day's welcoming hubbub subsides. Otis has felt this loneliness too, so he takes it upon himself to trek on down to the pup to offer comfort and a space in his barn atop the tractor's seat for much needed comfort.
A friendship is soon established that involves inclusion in the hide-and-see games with the other animals.
But the puppy is in unfamiliar territory and wanders off chasing an errant butterfly.
What happens when the puppy is not to be found? As the search is called off and darkness descends, will Otis confront his own fear of the dark as he puts himself empathetically in the place of the puppy lost and alone? Young readers will be cheering Otis the brave!
Young readers will also identify with both the friendly, but fearful little tractor who, despite his misgivings, can put all that aside to hunt for his friend. Confronting ones fears and gaining mastery over what we dread is something kids can learn over time, bit by bit, and sometimes it helps to have a tractor with human qualities like Otis to model behavior and lead the way.
It all becomes a bit easier when you have loveable Otis to open up discussion with your kids about how to face their fears, along with how to be sympathetic to the feelings of others. Otis cannot only face his fears; he can help a puppy face his, by modeling how to do it.  Putt puff puttedy chuff. What a tractor!