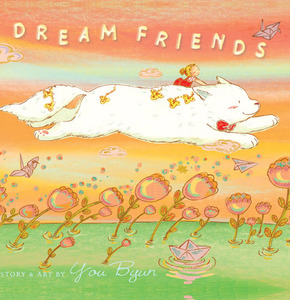 A Dream Is a Wish Your Heart Makes
Dream Friends
Story and Art by You Byun
Hey, I'd like you to meet a sweetie named Melody who has yet to find a real friend, but first must find her own voice to bridge the gap to friendship. But first, meet You Byun, whose first picture book, "Dream Friends", is a great debut for a young woman with a ton of talent. Something came to mind when I read her book. It is a song from Walt Disney's "Cinderella" called, "A Dream is a Wish Your Heart Makes". You moved around a great deal as a child and, as a result, had a time, as is usually the case, always being the new kid. And young readers, in similar circumstances, may also identify with her challenge of making new friends on the fly.
From that experience, emerged the character of Melody who sort of sings a solo song too. It is only in her dreams that she finds happy and magical adventures with a dream friend manifested as a large white animal, all gussied up with a large red bow attached to its neck. Astride her dream friend, Melody can fly fast, have happy surprises, play hide-and-seek, and watch fireworks – all  things you would hope to share with a real friend. But that takes a bit of doing; being open to share a part of yourself, and what you enjoy, to sort of break the ice with others. For you see Melody, like Ms. Byun, is the new kid on the block and Melody's dream friend is in fact modeled, in part, after the author's own dream friend from childhood. Although in Ms. Byun's dreams, he was akin to a raccoon figure. Sort of like art imitating life!
And what art it is! Receiving her MFA from the School of Visual Arts, she has received both the Society of Children's Book Writer's and Illustrator's Portfolio Award and the Tomie De Paola Illustration Award.
Ms. Byun has infused her story with the longing that all children have to share friendship with their peers. Her dream friend is a beautiful, sensitive and magical vehicle to express that universal emotion to share and belong. And what kids can sometimes feel the need to substitute till the real thing comes along!
Of course, there comes a time when Melody finds that dreams lack a reality and concreteness that she longs for in the daytime world, and not just found in her dreams at night. She wants a real friend to share adventures with. How do you make the connection to the real deal?
One day in the playground, she finds herself recreating a dance that she and her dream friend have shared. It provides the catalyst for another young girl to approach her with a question: "Is that a new game?" Melody has begun to bridge the gap between her dream friend and a set of real friends in life. What a leap of faith!
Sometimes for kids, that's what it takes.  There's usually always a necessary first tentative step, and "Dream Friends" and Melody show young readers the way. Kids eventually need to lose those difficult feelings of self-consciousness and reach out to their mirror image, who's perhaps waiting for the exact same thing! You Byun has written an important and magical book that can definitely help shy young readers and their parents make the journey with Melody from dreams to daytime and the friendships that are really just a dream away!