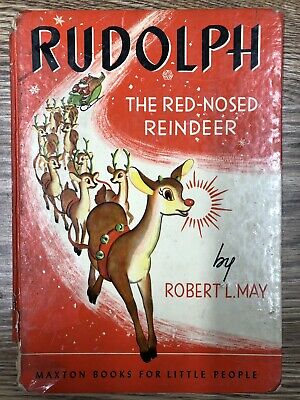 Do You and Your Young Reader Want to Know the Real Deal on Rudolph the Red-Nosed Reindeer?
I have always loved to read the back stories to down-on-your-luck events.
And the magic surrounding Bob Mays and his telling of the airborne red nosed reindeer named Rudolph is nothing short of amazing.
There are varied tellings of it, but the one I choose to believe is this one:
Bob Mays, in 1938, was working in the ad department at Montgomery Ward, famous for catalogues and stores.
Bob's wife, Evelyn, was ill and bedridden with cancer. Their daughter, Barbara, was naturally sad at the turn of events as Christmas neared. Bob, debt ridden and overwhelmed himself,  tried to comfort his daughter with a bed-time tale of a red-nosed reindeer named Rudolph, who was shunned by his companions because he was different.
Each night Mays' daughter asked for the story and each night Bob added more detail. He was encouraged to have it published as people heard about it and loved it.
The higher ups at Montgomery Ward, getting wind of this, offered to buy the rights from Bob Mays for the sum of $300. And he agreed.
In 1939 it was sent out to customers as a give away at Christmas and it was a huge success. The company produced over 2 million copies of it!
How you may ask, did Mr. Mays have the right to use Rudolph as he had previously sold the rights to Montgomery Ward? And here is where the spirit of Christmas generosity kicks in.
It continued to be a give away till World War ll and the giveaway ceased because of paper rationing concerns and that the name Rudolph was a tad German sounding.
By 1946, Montgomery Ward had produced some 6 MILLION copies of the little story of the bullied reindeer named Rudolph.
I'm getting to Stewell Avery,  the then CEO of Montgomery Ward which was a private corporation. Mays was approached by publishers who wanted to do a commercial version of the book.
Stewell Avery GAVE Bob Mays the rights BACK to the story of Rudolph. And he gave it back GRATIS! Bob Mays was facing money problems, as his wife Evelyn was quite ill.
In 1947, Maxton books published it.
Here, it gets even more interesting and crazy.  Johnny Marks, the song writer was a brother-in-law of Mays. He wrote the lyrics to the song, "Rudolph the Red-Nosed Reindeer," taken from the story Mays wrote. Marks' wife loved it. It was offered to Bing Crosby who reportedly turned it down. But cowboy icon, Gene Autry, did not and the rest is history!
Autry's version, as well as that of Burl Ives, who sang it it in an animated children's TV version of "Rudolph the Red-Nosed Reindeer," are probably the two most famous versions that you can identify.
The song happens to be #2 behind Irving Berlin's "White Christmas." as the best-selling Christmas songs of all time. It held that record for some thirty years ,according to a recent article when "Grandma Got Run Over By a Reindeer" flew by it (Ugh,) as well as a Christmas tune by Mariah Carey.
 Since Mays now owned the rights to the character, he could license the rights for other books, as well as as toys, games, comic books and who know what all. He became a millionaire.
Surely you all remember the animated special of 1964 that is shown yearly to the delight of children, featuring Burl Ives as the Snowman singing the  Johnny Marks' lyrics of "Rudolph the Red-Nosed Reindeer." 
And who could forget  Rudolph's journey from derided deer to hailed hero on Christmas Eve. Hermie the Elf, The Abominable Snow Beast, Clarice, and Yukon Cornelius plus all those forlorn forgotten and mismatched playthings on "The Island of Misfit Toys," have achieved mythic proportions because of Bob Hays 1938 story.
He and Rudolph did go down in history!
Here's  the cover of the original "Rudolph the Red-Nosed Reindeer." There are many versions, but my particular favorite is the Little Golden Books one.
During this season of generosity and gladness, please share this story and the accompanying picture book with a young reader who may not have heard it yet.
Special thanks to Brian Cronin for writing the details of this heartwarming story on legendsrevealed.com