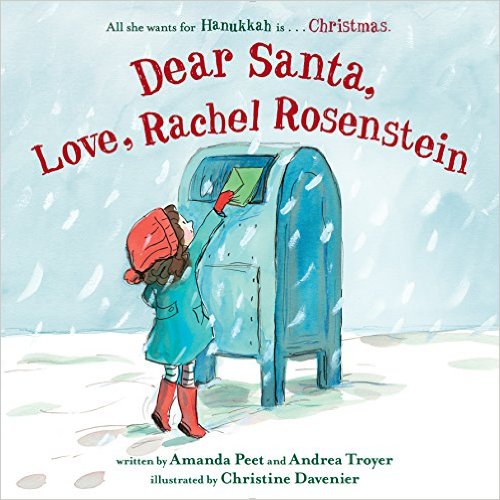 An Interfaith Look at the Holidays
Dear Santa, Love, Rachel Rosenstein
By Amanda Peet and Andrea Troyer; illustrated by Christine Davenier
"The heart wants what it wants –
or else it does not care."
Emily Dickinson
This quote popped into my head after finishing Dear Santa, Love, Rachel Rosenstein.
It's probably one of my favorite picture books of this season – though I do have some reservations. More on that to come.
The story centers on the very human and headstrong Rachel, intent on the absolute and unequivocal certainty of what she wants.
And what she wants is a taste of Christmas. But, the fly in the poetic ointment of that desire is that Rachel happens to be Jewish.
Amanda Peet and Andrea Troyer have written a very realistic take on young Rachel's determination to share in the traditions and culture of the Christmas season. And here's why Rachel feels what she feels:
She loved the thousand twinkly lights

that went up in her neighborhood, the               

ginormous tree in the town square, and

the store windows crowded with Santas,        

elves, candy canes, glittery tinsel, and piles of presents wrapped in shiny, beautiful paper.
Rachel is in love with the entire idea of the secular Christmas that inundates our culture each year. Truth be told; no matter what your faith belief, it's pretty hard to ignore all of this, and, if you're a kid, nigh on impossible.
The art of Christine Davenier makes the secular lure of Christmas, with its glitz, glitter and "jolly ole elf" known as Santa Claus, at its heart, plus his seeming ubiquitous presence in December, a delicious and definite allure to anyone, not least of all, to the heart of childhood. Ms. Davenier's illustrations have captured it all beautifully.
I do get that this is part of the point being made here; along with the issue of the importance of individual faith traditions needing to be respected.
But, what I don't get is the impermeable line in the Christmas snow that is unquestionably drawn for Rachel.
Admittedly, Rachel represents probably a host of many faiths that are not part of the Christmas season. Its secular messages are trumpeted everywhere AND OFTEN this time of year.
They're pretty hard to ignore, even for Christian families that are trying to coexist with another "haul out the holy," reason for the season.
It's a tough go competing with the secular tone of the holiday for faith-based families of any belief.
But, our young Rachel is goal-oriented, as relates to Christmas getting and giving, and, through a series of clever and elusive plots, endeavors to show that she will not be left behind in the Santa season.
She's a girl on a mission, and her objective is to find a way to be part of it – and she leaves no stone unturned in her pursuit of making Santa aware that she is there and eager to be part of the festivities.
Her door is wide open; leave no doubt of it, Mr. Claus!
Patient parental explanations of the traditions of Passover, Rosh Hashanah and Hanukkah, along with all the other wonderful foods, and religious and cultural heritage of her own faith, fall on deaf ears as Rachel ratchets up her quest for Christmas.
So, she resorts to a special ops operation of a sortie to Santa – the Big Man himself – in person! She visits a department store Santa when a neighborhood family invites her along as their guest.
Department store Santas have probably heard it all in the pleas of panicked kiddies in the thrall of Christmas gift getting.
But the look on this Santa as Rachel explains her dilemma is priceless – and so human that you cheer for Rachel's spirit, tenacity, and her desire to be part of something she so desperately wants.
Rachel is a Christmas decorator nonpareil, as she secretly floods her house Christmas Eve with a flurry of last minute proper welcomes for Santa, all in the trusting hope, he will not pass her by.
She spares no known gesture, big or small, as even the cookies (latkes pressed into service and re-imagined with chocolate chips pressed in ) and milk with a note for Santa, are placed with great care.
I am reminded of our Jewish next door neighbors growing up as a kid in New Jersey. Every Christmas, my friend, Sharon, would be invited over to help decorate our Christmas tree. She came, and had, I think, a good time and a peek at another tradition, other than her own.
What never occurred to me was whether she had one of her own, though I did enjoy delicious suppers at her home over time. We enjoyed each other's open homes and hearts.
But, the inevitable happens for Rachel. No Santa and no present. The reader can see it coming a mile away. And your heart breaks a bit too, for Rachel's disappointment – for a bit.
Her mom is a pretty sage and practical woman, as she says to her daughter:
              Sometimes, no matter how

              badly we want something

             we want, we just have to accept

             what is.
Those are indeed true and wise words, in the main, but I wonder….
What I do remember from my friend Sharon's and my secular and faith traditions, was that they were no better, one than the other, just different. And we were the richer for sharing them. We could each be what we were, and not compromise the other person's belief system, by enjoying, learning and participating in the other.
What was important was our shared friendship and the other 364 days of the year that we played games together, acted in neighborhood plays, laughed as we popped tar bubbles on the street and roller skated on the fast hill that ran past her house.
I guess I am going out on a PC improper limb here, when I choose to opine: Would Rachel be a better or worse person for even a fraction of participation in any of the traditions involved in Christmas?
It's an interesting premise.
And while her family's meeting at the local restaurant; the only one open on Christmas, involves a communal get together of other non-Christmas celebrators of Chinese New Years and Diwali, another festival of lights, as Hanukkah is, it does beg the question.
All of these children: the Rachels,  Aminas, plus young Mike Rashid and Lucy Deng, are all growing up in an incredibly diverse world of religions and cultures.
Would they be better served sharing the richness of who and what we all have in common, as long as it involves a growing respect of what we each hold dear – and a willingness to find out what each tradition means –  to them?
Sometimes kid's insights are so pure and devoid of any past prologues to their future, that, even if her mom says no, I am rooting a bit for Rachel.
I couldn't have said it any better than the simple sincerity of Rachel's letter to Santa as she asks him to allow her to be part of Christmas:
      Dear Santa,

         I live in the brick house on Huntley

      Drive. Yes the one with NO holiday

      decorations. It does have a chimney

      and there will be cookies waiting if you

      come down it.

         I have been really good all year and I

      know that you are a fair person and will

     not mind that I am Jewish. After all so

      was Jesus, at least on his mother's

      side.
Check with mom first, Rachel, but you are invited to share a bit of Christmas with us – ANYTIME!  And, just for the record, I will come to Huntley Drive for Hanukkah. Just say the word!
I can't make latkes, but I sure am willing to learn.
Happy Hanukkah, sweetie! You are one special young woman.