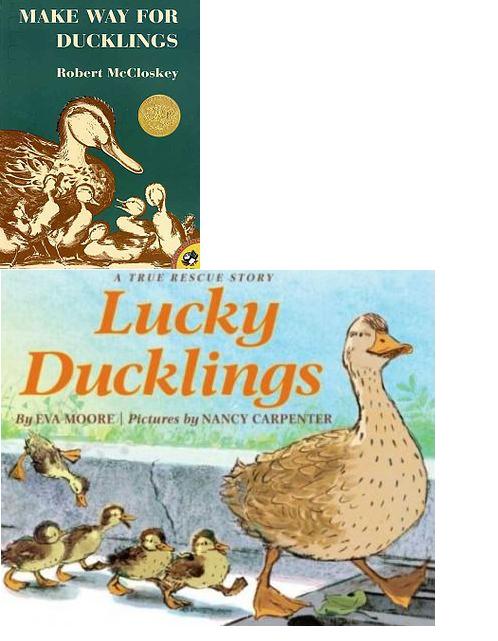 Double Ducks to Celebrate Mom on Her Day
Make Way for Ducklings
by Robert McCloskey
AND
Lucky Ducklings
by Eva Moore; Pictures by Nancy Carpenter
I discovered a wonderful picture book to celebrate Mother's Day and compared it to a classic one that I love.  Mothers, whether fish, fowl or human, usually have one component common to all. They are fiercely protective of their young, leading the way by example and guidance until the young'uns fly the roost – and even after that, if we're honest. Picture book author Eva Moore stumbled on a real life example of good old fashioned mother love in her own town of Montauk, New York, and the result is a picture book with story and illustrations that fit the "bill" for Mother's Day. But a classic Caldecott winner also still resonates strongly over time with its theme of the power of love.
"Luck Ducklings" definitely has the feel of Robert McCloskey's iconic "Make Way for Ducklings" that captured the Caldecott Medal for Best Picture Book in 1942, but "Lucky Ducklings" has a warmth and immediacy all its own. In "Make Way for Ducklings", the world famous octet of mallards, celebrated in replicas in gardens both in Boston and Moscow are endearingly coined for all time as Jack, Kack, Lack, Mack, Ouack, Nack, Pack and of course, Quack. Mr. and Mrs. Mallard are looking for a home base for their family, and find it eventually in the famous Boston Public Garden. Community help during the quest arrives in the person of the friendly and watchful Officer Mike who provides a safe Mallard crossing when needed!
But in "Lucky Ducklings", Mama Duck, a warm and buttery yellow, is out for a leisurely stroll on a warm day with the ducklings named Pippin, Bippin, Tippin, Dippin and Little Joe. Is their last name Cartwright by any chance? But I digress. Out of the pond they waddle, following the downy down of Mama, forging ahead through a beautiful green park and straight into a parking lot, even stopping at a tossed wrapper of what looks to be a hot dog food for a bite of lunch – and straight down a tick tack toed STORM DRAIN! Mama looks behind her and no ducklings!
"Whack-a-whack", Mama Duck is on it in a flash, waving away all comers with her wing spread warning all onlookers away from her brood. But hey, they're all there to help the ducklings that can be heard below the grate raising Cain. Firemen named Joe, Paul and Dennis rush to the grate, but no go. It's sealed tight.
Ms. Moore states in her book, "That could have been the end of the story." But as they say, "Necessity is the mother of invention" and a local named Perry, along with his big, green truck, comes up with a solution. Thank goodness for his long rolls of cable that can wrestle storm drain covers off in a trice and a trio of brave firemen that descend in the darkness to bring the five downy ducklings to daylight.
Where is Mama all this long time? Why waiting and watching with the crowd to see those yellow heads pop up from the darkness. Even as they are placed in a pail of water, she peals out with a plaintive "Whack! Whack! Whack!" as if to say, "Bring my babies back! It's not the end Mama Duck. They're still yours; they're still safe and will probably be up to more unforeseen hijinks before they're grown even as traffic stops, courtesy of Firemen Dennis who facilitates the mother/duck reunion.
Nancy Carpenter has done a perfect job in bringing this true-life rescue story to picture book reality. The small ducks yellowy brown coloration makes them appealingly real and helpless, while the pictures of a concerned Montauk citizenry and rescue crew exhibit just the right blend of concern and relief, as the reunion is complete. And as for Mama, she is strong and stalwart.
I would be completely remiss if I did not acknowledge the real life heroes of the story. They are Joe Lenahan, Paul Greenwood, Dennis Sisco and Perry Aaland. Great job, guys. And of course, we remember the Mamas of both picture books. Happy Mother's Day to all moms biologic and supportive surrogates who have loved us through life, providing and securing young ones and the nests they inhabit. And to really celebrate moms, why not share BOTH picture books with a child   and enjoy two storybook endings that celebrate Mother Love! It's a classic all its own to be savored.