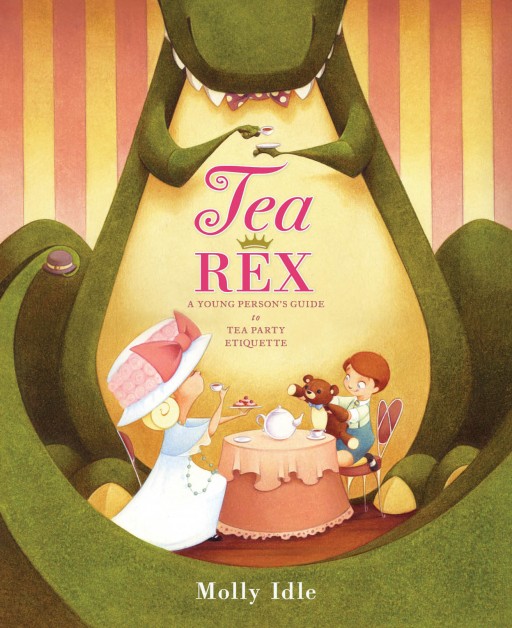 Tea Rex
By Molly Idle
There are certain protocols of mannerly behavior to be observed when one is inviting a guest to tea. The invite must be proffered of course in decidedly delicate verse as in:
                                                  Dear Mr. Rex,
                                             It has been so long
                                             since I have seen you.
                                             Do drop by on Friday
                                             afternoon for a cup
                                                     of tea.
                                                                   Your friend,
                                                                     Cordelia
Cordelia and her young brother have followed these proper niceties in writing their tea party invitation to Mr. Tea Rex on what looks to be pure white vellum. All is correct, demure and oh so polite. Except the invitee is a DINOSAUR. Ms. Idles's art and narrative displays situational hilarity as it portrays the plucky and polite Cordelia as she is in a dilly of a position juxtaposing manners against a mammoth guest. Here commences Cordelia's determined efforts to conduct a proper tea in the face of the visit of an outsized dino who still needs a tad of tutoring on how to behave at a high tea.
Greeting ones guest at the door is the least of her problems as his expansive girth blocks the entire entrance! Thus, you can see the problem of leading him to the parlor. But, dear me, do let us be proper at all costs.
Cordelia, as every gracious hostess, sees to the necessary introductions of Mr. Tea Rex to her brother and his teddy bear companion. Next, as is necessary in polite circles, one escorts the guest to a comfortable seat. Molly Idle's illustration of the rear posterior of Cordelia's guest atop a tiny, delicate pink and white chair is, well, a howl.
Ms. Idle's story will have young readers tittering, if not outright fits of giggles, as Cordelia is not to be deterred by a social faux pas or six on the part of her guest. She has the soul and decorum of a pint-sized Miss Manners in the face of well, having tea with a dinosaur.
Cordelia is not to be deterred by a few inconsistencies presented by normal dinosaur behavior exhibited by Mr. Tea Rex at an afternoon tea. She plunges ahead dauntlessly. The absurdity of the situation is quite obvious. But it is the reasoning of Cordelia's, "Let us be elegant or die", behavior that gives this picture book its delightful playful elegance and "huh" double takes. The young hostess must overlook the on going mishaps. Her sole desire is to make her guest feel at ease in this elegant environment. She is all sweetness and it's well, sweet. For instance roar is his contribution to her genteel teatime observations on weather! You and your young reader will be wide eyed when the narrative observes, "When everyone is settled, you may serve refreshments. Be sure to offer several choices" Mr. Tea Rex's idea of refreshments you will see, does not include the typical array of salmon or cucumber sandwiches and scones with clotted cream. He is after heftier fare as in BEAR! Not to worry, Mr. Tea Rex is easily diverted by the serving of tea, but not in the dainty teacups provided by Cordelia. Vases and even Cordelia's upended tea bonnet wind up as this dino's super sized container for tea. But as Ms. Idle cheerfully observes in this wittily wonderful book of a mad tea party observed by all the rules of tea etiquette  – "But a good host meets these little challenges with a cheerful smile…"
Escorting ones guest to the door without demolishing the entire frame may present a slight problem, but Cordelia gingerly finds herself up to the task.  And who knew Tea Rex himself is an observer of the proper response to a invite for tea. Why, you ask them to your home as a proper host sporting a jazzy purple polka dotted tie when you pour. Ms. Idle seems to be a believer that good etiquette is not dependent on the guest, but is to be observed at all times, regardless. I agree and if that subtle lesson, taken in addition to the tongue in cheek humor of her softly colored and dainty narrative, then it's an added bonus to one delightful book.
As it happens I am going to a high tea in the near future and am definitely bringing this book to be read by the patrons who may bring children. I hope someone brings Mr. Tea Rex as I now know how to have tea with a dinosaur! Thank you Ms. Idle. May I pour? I know you take it with milk (no sugar).  Scone? Clotted cream? The strawberry jam is dee-lish!