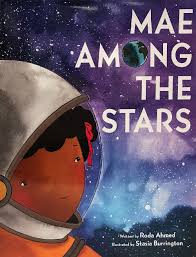 Believe in Your Dreams, Young Readers! Here's Someone Who Did…"Mae Among the Stars" by Roda Ahmed; illustrated by Stasia Burrington
All you need is a dream to reach a goal.
Well., it's very much a starting place, but it realistically takes a whole lot more to achieve a dream.
Among them just a few of the factors affecting whether dreams are realized would be talent, technique, tenacity and timing.
"Mae Among the Stars," by Roda Ahmed with illustrations by Stasia Burrington, is a story of a young girl, who, when asked what she wants to be when she grows up, feels her desire is to not merely wish upon a star, but to BE among them, and as young Mae puts it:
"I will tell them I want to see Earth."
And it's not the earth of here, with the "flowers, the grass, the forest and the mountains.
Mae knows this, but she wants to see Earth from OUT THERE….in space!
In order for that to become a reality, she is told she must become an astronaut.
Tentatively, she asks her parents the burning question of every child with a dream:
Do you think I could do that?
And her parents reply is one of encouragement:
Of course you can. If you can dream it, if you believe it and work

hard for it, anything is possible.
Mae begins drawing pictures of space, making an astronaut outfit from old orange curtains and cardboard boxes.
Asking her dad the way to her dream, he says:
You will find your way, Mae. Because if you dream it, believe in it,

and work hard for it, anything is possible.
Pretty soon Mae is telling everyone about a dream that she has:
That night Mae has a happy dream:
"She was dancing in space, surrounded by billions of sparkling stars. Below her she could see Earth floating and turning like a shining crystal ball."
Mae is excited and happy, telling everyone of her dream.
In school, Mae's teacher asks her class to share their dreams and what they want to be when they grow up.
Many of the responses range from a football player to a teacher to a firefighter to a mom (worthy calling, folks….and unpaid to boot.)
Miss Bell's response to Mae's dream of becoming an astronaut, when the classroom laughing dies down, is:
"Nursing would be a good profession for someone like you."
But, Mae doesn't want to be a nurse. A literal "blue mood" surrounds Mae on the pages of the picture book as she travels home from school that day and tells her mom that her teacher said she can't be an astronaut.
Undeterred, Mae's mom reminds her of the dream with a great line:
"I'm sorry Miss Bell didn't encourage you, but she can't stop you. No one can stop you. Follow your dream and go into space.
And, years later Dr. Mae Carol Jemison fulfills her dream, and the promise kept of waving to her parents from space.
It's a wonderful story of a dream and a wish fulfilled.
The story is inspiring in the strength of the belief in a dream.
Fulfilling dreams is often very hard work. The dream is only the wish. The fulfillment of it is the hard part.
Young readers must fully grasp that as well.
Mae becomes "highly educated."
She entered Stanford University at age sixteen and earns a Bachelor of Science degree in chemical engineering in 1977.
She earned an MD degree from Cornell Medical College in 1981.
She worked in the Peace Corps as medical officer in Liberia and Sierra Leone.
She applied to NASA's astronaut training program and was accepted in 1987, becoming the first African American female astronaut accepted into the program.
On September 12, 1992, she traveled into space on the shuttle "Endeavor, mission STS-47.
She officially became the first African American woman in space.
She even became the first real astronaut to appear in an episode of Star Trek: The Next Generation.
Oh, and she also speaks fluent Russian, Japanese and Swahili.
From 1973, when Mae graduated high school, till 1993 when she realized her dream, is some nineteen-year span of time…and a ton of hard work.
Ms. Ahmed's picture book of Dr. Jemison's life does a fine job of elucidating the dream and her passion that will not be deterred by naysayers that attempt to dampen the dream.
Stasia Burrington's artistry is captivating in its ability to capture the intensity of one young girl's promise and belief in that dream.
My one caveat is that there was a HUGE amount of commitment, hard work, and drive involved in the giant leap from a dream to its realization as can be seen in her accomplishments on the last page.
As long as young readers realize that leaps of faith from dreams to their successful conclusion, are usually funded by a ton of hard work, commitment and gritty determination that can't fall in the face of the obstacles that life inevitably throws our way, dreams do come true.
It did for Dr Mae. Jemison!