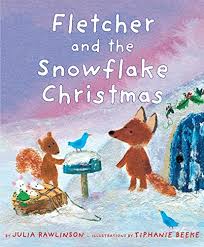 "Fletcher and the Snowflake Christmas" by Julia Rawlinson; pictures by Tiphanie Beeke
Meet Fletcher; one of the dearest foxes your young reader will ever meet.
He is unfox like in that the wily and sly gene fox pool missed him.
Fletcher is kind and loving and open to life…. and that would include rabbits, squirrels, birds and his friends in his environs.
In fact, Fletcher lives near the rabbits in his own cozy den. But, as he happily pulls his sled to the rabbits new burrow, a worrying thought furrows his fur:
How was Santa going to find the rabbits' new home?
Okay, readers, Fletcher is a young fox and has of yet to realize the amazing adaptability, delivery-wise, of Santa.
And so, Fletcher searches for delivery cues for Santa to use, such as :
"Fletcher began to search around, collecting sticks from the frosty ground and arranging them to make a trail of arrows leading to the new burrow."
And a squirrel, a trio of mice, a flock of birds aid Fletcher in his trail blazing efforts to guide Santa on his yearly midnight flight to the rabbits' new burrow.
What they DON'T count on is an overnight snowfall covering the trail.
So, they make a last minute plan to stay up for the jolly old elf and TELL Santa themselves.
Will they stay awake?
Will Santa find the new burrow?
Will kindness be rewarded?
Fletcher and friends exemplify the reason for the season, in miniature…and he can SKI.
Have your young reader enjoy Julie Rawlinson's creation called Fletcher, a furry and friendly fox whose further adventures can be read in:
"Fletcher and the Falling Leaves"

"Fletcher and the Spring Blossoms"
I would remiss if I did not mention Tiphanie Beeke's artistry with her deft and darling water colorations that bring the cute and caring Fletcher the fox to life in soft brush strokes that endearingly define both him and his Christmas forest folk.
Fletcher is a fox for all seasons.
Merry Christmas, Fletcher!