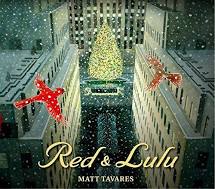 Culture Chaos? Think Again, Via This Sweet Picture Book Called "Red and Lulu" by Matt Tavares
As Christmas approaches, many may deem us to be in culture chaos; a freefall of ethnic tensions, political divisions and the haves and the have nots in conflict with one another.
That may be true to some extent, if we take a half empty glass look at life, BUT those same conditions existed more than 2000 years ago at the time of the FIRST Christmas.
Glumly, you may think that times haven't changed much; that outer man changes, but inner man, not so much.
But Christmas, as Charles Dickens opined in 1843, via his nephew, in "A Christmas Carol," concerning the season:
"But I am sure I have always thought of Christmas time, when it has come 'round – apart from the veneration due to its sacred name and origin, if anything belonging to it can be apart from that-as a good time: a kind, forgiving, charitable, pleasant time: the only time I know of, in the long calendar of the year, when men and women seem by one consent to open their shut-up hearts freely, and to think of people below them as if they were fellow-passengers to the grave, and not another race of creatures bound on other journeys. And therefore, uncle, though it has never put a scrap of gold or silver in my pocket, I believe that is has done me good, and will do me good; and I say, God bless it."
And, if THAT can get involuntary applause from the beleaguered poor Bob Cratchit, there is room and pause for us, today to think the same, and celebrate its coming.
And, picture books, such as Matt Tavares" "Red and Lulu" is cause to ring the Christmas bells.
Meet cardinals, Red and Lulu, whose home in a big and beautiful fir tree, has housed and comforted them as home in many a season:
"Red and Lulu were happy in their tree.
Their nests were always safe in the branches.
It shade kept them cool on hot summer days.
And its evergreen needles kept them cozy
        when autumn winds howled.
It was the perfect place to live all year long.
But their favorite time of year, by far, was winter
  The family would decorate the tree with lights,
and sometimes people would gather near and sing:
O Christmas tree, O Christmas tree,
            Thy leaves are so unchanging….."   
Things are humming along with Red and Lulu singing along with the carolers, until one morning, Red flies off to leave Lulu in the tree to find some breakfast.
He comes back to find…..NO TREE!
The answers to where the tree went, and will Red find Lulu safe and sound, is a Christmas adventure of a picture book to delight the hearts of young readers.
Here's a hint: There is not one tree, but many trees where Red and Lulu will eventually find their home and they happen, annually, to be in New York City.
Matt Tavares has the heart of a story teller/artist and makes the journey of the cardinals and this "giving tree," come to familiar and breathtaking beauty in its new home.
The familiar scenes are recreated in true detail.
Forget the culture cratering, and have your young reader view two cardinals named Red and Lulu, renew your hope for the world.