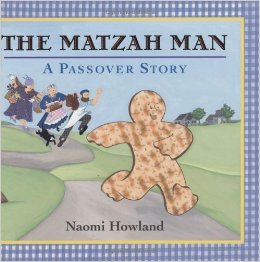 The Matzah Man: A Passover Story
By Naomi Howland
How do families with young children participating in the traditional Christian and Jewish days of remembrance that come in early April this year, intermix both the holiday and holyday aspects of each?
For in these celebrations are combined family rituals with age old religious observances. How to honor both in the family in order to keep BOTH meaningful, can be a conundrum for parents.
And, with the deafening roar of our modern culture in children's ears 24/7, perhaps it's even more important today to reemphasize traditions that keep family values buoyed.
Picture books can definitely help bridge the gap between the two. For a lap, and a voice relating the ancient customs and celebrations of old, keep them alive and renewed for successive generations of young readers.
So, here in the next few postings are books to share for Passover and Easter. And, with a great picture book read, your family can heighten the holiday enjoyment, if read either during the lead up to it, or even as they allow the chance to savor the family celebration, as it winds down.
Ms. Howland has managed to cleverly interweave the family traditions attached to the seder celebration preceding Passover, with the traditional story of "The Gingerbread Man." It morphs into "The Matzah Man!"
Remember the story of the gingerbread man that jumped from the baking pan and eluded capture? He is chased by, depending on which iteration of the tale you find: a little old woman, little old man, a pig, cow and horse, till finally he's snapped up deliciously by a finagling fox.
Here, in Ms. Howland's take, Mr. Cohen the baker shapes some bits of leftover dough into..guess who? Out he pops from the oven and the chase is on! A red hen, Cousin Tillie, Aunt Bertha, Grandpa Solly, Miss Axelrod, red hen and gray goat are on the move in matzah mania pursuit.
The Matzah Man's last meeting is with  young Mendel Fox. Uh oh! Mendel does try to be a "mensch" (a good person), inviting the crispy escapee inside his Grandpa Solly's house as a safe haven. Under the linen matzah cover cloth he goes. Oops! Snap goes The Matzah Man. He's toast… sort of.
Not to worry! His ending is at a shared seder table with all his pursuers – including both red hen and gray goat in attendance.
In fact, young readers of all faiths will get a great read, plus some insights into preparatory foods for the seder meal. Each of his chasers are in prep mode with gefilte fish, chicken soup, and brisket for the coming seder meal.
They will also enjoy the use of Yiddish expressions such as "chutzpah" or nerve, of which The Matzah Man has a plenty.
After all, he IS "The Matzah Man" and will continue to be with your young reader each time you both give chase!