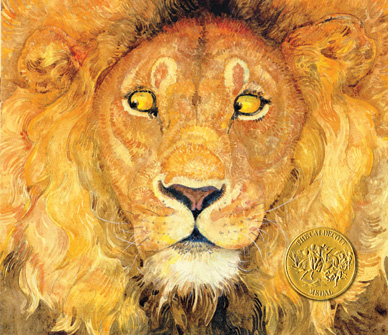 Way Back Wednesday Essential Classic: Celebrating 75 Years of Caldecott Medals!
The Lion and the Mouse
By Jerry Pinkney
Jerry Pinkney's wordless rendering of this, his most favorite of Aesop's fables is a terrific way to introduce your young reader to this famous teller of fables. Pithy stories featuring animals with a moral for an ending have been drawing readers of all ages, for well, ages!
The cover art alone is worth it as Mr. Pinkney has posed the King of Beasts and the tiny rodent on opposite sides of the cover. The juxtaposition of the two is power and weakness personified. The question Aesop asks is, "Can the powerful be weak and the weak powerful?" "Can the courageous be driven to fear and the small and fearful, become courageous?" With each turn of the page of this gorgeous art, no words are necessary. The answer is laid out for your young reader in a way that is majestically moving.
The story, in case you've forgotten, is a simple, yet powerful tale of kindness rewarded with the moral given that no good deed is wasted. Hence, when the lion pounces on the small mouse as his prey, yet decides to let him go free, it seems highly unlikely that the mice can ever repay the lordly King of the Jungle for his kindness. But that would presuppose that the lion would never find himself in a corded tangle of a hunter's trap with no way to extricate himself. Enter the small rodent. With his tiny incisors, he is in the perfect position to patiently gnaw the lion's ties that bind him. And voila he is free!
Winner of the Caldecott in 2010, this artist displays an amazing breadth of artistry that he has used during his lengthy career to enhance the picture book genre. He has placed the setting of the fable of "The Lion and the Mouse" in the African Serengeti desert of Tanzania and Kenya. It is a perfect placement for depicting the lush and languorous jungle environment of these two natural antagonists. Giraffes, elephants, owls, monkeys and other wildlife serve as backdrop for the fable, as well as a jeep driven by animal hunters setting the lion's trap, showing that even the hunter known as The King of Beasts becomes the hunted in the jungle.
And, as a result, kindness, your young reader will learn, does not depend on strength, but on the content of character and that is a lesson worth learning!