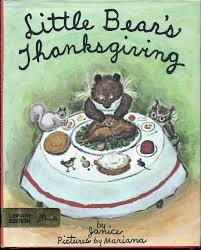 Little Bear's Thanksgiving By Janice; pictures by Mariana
Just for the record, Janice is Janice Brustlein and Mariana is Marian Foster Curtiss.
And this is one sweet Thanksgiving tale, so perfectly unaffected for young picture book readers, who will certainly identify with Little Bear and his coterie of animal friends as in Owl, Squirrel, Sparrow, Squeaky the mouse, and the beloved blond tyke named Goldie.
It's been one heck of a year so I have been reflecting on gathering classic reads that are soft and soothing, with just the right tone for a year fraught with cultural chaos and Covid-19.
And "Little Bear's Thanksgiving" sets the right tone of tenderness that we all seem to need.
Children pick up the tension vibe from grown ups, so a lap and a great picture book read is a wonderful solution to calming EVERYONE. And, it can be done on Facetime or Zoom as a shared read aloud.
Little Bear, right before that long winter nap that bears are wont to take, receives an invite through the mail:
Dear Little Bear,

 

Please come to Thanksgiving dinner on Thanksgiving Day at 4 o'clock.

 

                                                              Your friend, Goldie
As Little Bear lazes in his hammock in late summer, he is already getting a tad drowsy, and so he is concerned as the invite causes him a bit of alarm. How will he awaken for dinner.…something that perks up his interest immediately.
This 1967 classic picture book is simply and beautifully told and illustrated for the youngest of readers. It is both comforting and cozily created with Little Bear, beginning his nap, getting the invite and wondering just HOW he will awaken in time for Thanksgiving?
Owl, Sparrow, Squeaky and Squirrel regale Little Bear with info on the tasty treats awaiting him as they have seen Thanksgiving fare feasting through a window at Mr. Smith's house. It included:
Turkey with chestnut stuffing

Cranberry sauce

Mashed sweet potatoes with marshmallows on top

Pumpkin pie
And they are all served at one meal to Little Bear's astonishment!
Squeaky the Mouse relates the story of the  origins of the first Thanksgiving as the Pilgrims and the Indians gathered to celebrate.
Owl informs Little Bear that:
Thanksgiving is the day when people say Thank You for all the nice things they had to eat all year.
Will Little Bear awaken for the feast? Will his friends remember to awaken him?
The art and narrative are a perfectly matched mix of Thanksgiving story and art, allowing Little Bear and your young reader to sleepily toddle through and make a grand and grateful entrance at Thanksgiving at Goldie's; joined by his cohorts of forest creatures.
Speaking of grateful, at our farm this year, we are so very grateful for all the fresh veggies and fruit that Mother Nature so lovingly provided on our 44 acres and for the bounty she brought forth in the midst of a pandemic, for the many people that helped us to harvest it all, for the folks that came to purchase what we grew and most of all, for the blessings that we received from the Good Lord all year.
Little Bear, never fear, you will awaken for the feast and never fear young readers, the picture book  provides a grand way to hunker down in a pandemic and read your way through it, with Little Bear and friends!
And if you enjoyed this book, there are further adventures with:
Little Bear's Christmas

Little Bear's Pancake Party

Little Bear Marches in the St. Patrick's Day Parade

Little Bear Learns to Read a Cookbook
I love Little Bear…and so will your young picture book reader!
Happy Thanksgiving!