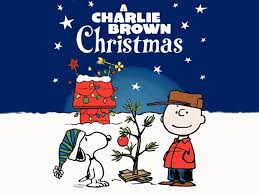 Introduce Your Young Readers to the Christmas Beauty of These Picture Books on the Nativity.
Tonight, December 13, 2020, PBS broadcast the iconic 1964 TV special commissioned by the Coca Cola Corporation for broadcast on network TV for Christmas of that year.
It seems hard to believe that a major corporation would have, at that time, not only taken the giant leap to talk about the commercialization of Christmas, but emphasize in Charles Schulz's character of Linus and his declamation from a quietly lit stage , the Gospel of Matthew describing the announcement to shepherds of the birth of Christ.
The broadcast rights to this and other Charles Schulz holiday specials have recently been purchased by Apple TV, and would have curtailed "A Charlie Brown Christmas" to viewing by subscription owners only; unless you possessed the DVD version.
But, to the public's credit, there was a huge outcry about its removal from broadcast TV to streaming services like Apple TV.
And so, Apple TV relented ,and this evening PBS was permitted to air it ad free at 7:30pm and they will allow it to be viewed at other limited times subscription free.
Its simple cogent message needs to be heard more than ever by young ones amid the din of the daily drumbeats of "more is better" and "stuff makes you happy."
It's to Apple TV's credit that they recognized the complete irony of the premise of Charles Schulz's "A Charlie Brown Christmas," which is the commercialization of Christmas with its true meaning being usurped, and in 2020, its broadcast being usurped for profit.
Apple TV chose not to be a complete grinch at Christmas and good for them.
As Christmas nears, there are many parents who struggle each year, balancing the holy day and holiday aspects of Christmas.
The ho ho ho of Santa and Christmas that starts, oh, around Halloween, with its frenzied blitz of advertising that appears in stores and media, can be harder each year to sidestep for families that long to emphasize the more profound aspects of Christmas.
So, I thought it would be a good idea for The Snuggery to search out what I consider some classic reads with beautiful illustrations from folk art renditions, to one in particular, that uses master works from The Metropolitan Museum of Art to portray the story of the Nativity.
Some are full-size picture books and some are board books that can stand up to many readings, with sometimes not so gentle handling.
These stories and their common themes, some of which reach across cultural divides, each in their own unique narration and art, tell the ancient miracle of the great gift of Christmas, when the divine becomes human, in a unique and child-accessible way.
They use both human and sometimes animal witnesses to an event occurring over 2,000 years ago, that continues to resonate in today's ever more secular society.
You may want to include some in your child's own library and save to read on Christmas Eve:
Classic Nativity Picture Books:
The Christmas Story – The Metropolitan Museum of Art
The Friendly Beasts – Tomie de Paola
The First Christmas – Jan Pienkowski
The Christmas Story (Little Golden Books) Jane Werner Watson and Eloise Wilkin
The Little Drummer Boy – Ezra Jack Keats
The Story of Christmas – Pamela Dalton
A Night of Great Joy – Mary Englebreit
A Small Miracle – Peter Collington A modern parable told through a wordless picture book. It is unforgettable! A not to be missed gem of a telling.
The Other Wise Man – Henry Van Dyke; illustrator Robert Barrett
The Christmas Cat – Maryann MacDonald; illustrator Amy Bates
Room for a Little One – Martin Waddell: illustrator Jason Cockscroft
Nativity – Cynthia Rylant
A Charlie Brown Christmas – Charles Schultz
Who is Coming to Our House? – Joseph Slate; illustrator Ashley Wolff
The Christmas Story –  Robert Sabuda
Joy to the World: Christmas Stories and Songs – Tomie de Paola
Christmas in the Barn – Margaret Wise Brown
The Nativity Story  – Geraldine McCaughrean;illustrations by Sophy Williams
The Nativity Play – Nick Butterworth and Mick Ingpen
Christmas Stories – Michael Morpurgo
I have also included a link at the bottom of the blog which includes, perhaps, some I have mentioned, but other nativity reads as well.
https://www.theguardian.com/childrens-books-site/2014/dec/15/best-
childrens-books-on-the-nativity-christmas