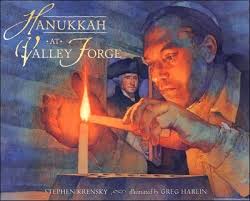 Combining Holiday and History
Hanukkah At Valley Forge
By Stephen Krensky, illustrated by Greg Harlin
With the arrival of the celebration of Hanukkah, I wanted to revisit a special book I have spoken about before; "Hanukkah at Valley Forge". In 2007 this book received The Sydney Taylor Award from the Association of Jewish Libraries given in recognition of picture books and also those for teens that authentically reflect the Jewish experience. Here, the book's vivid watercolor illustrations, coupled with Mr. Krensky's wonderfully done retelling of a historically researched story, come together for what I think is a powerful picture book.
Stephen Krensky's book, Hanukkah at Valley Forge, combines history and holiday in an interesting way. The parallels of American and Jewish history intertwine on a bitterly cold winter evening at Valley Forge. Faced with increasing uncertainty and mounting odds, General George Washington meets a Polish immigrant observing the first night of Hanukkah with the lighting of the candles there amidst the fading hope of Washington's discouraged colonial army.
The Polish man relates to General Washington the ancient story of the Jews' fight for religious freedom against King Antiochus. He draws a parallel between the Jewish fight and ultimate victory against oppression, and the American fight for independence from the British.
Greg Harlin's beautifully rendered watercolor paintings are amazing. The bluish tinge of some of the paintings echo the extreme cold of what must have been the bitterness of that Pennsylvania night as Washington's ragtag army fought the elements and fading hope. Harlin's art uses contrast as he provides a golden glow from the lit Hanukkah candle that suffuses the face of the Polish immigrant. Amid the closing darkness, when doubts enters many men's minds, it subtly suggests that faith in a cause can surely overcome all obstacles.
Common themes of man's need to hope in the face of increasing despair and the price of liberty's cause, echo in the meeting of these two men at a pivotal point in our nation's early history. Some historical accuracy was apparently discovered in the research of the book, and it is left to the reader to wonder if chance meetings sometimes turn the tides of men and war.