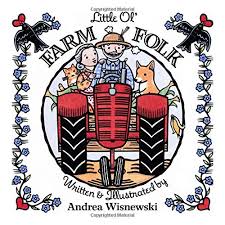 "Little Old Farm Folk" Written and illustrated by Andrea Wisnewski
When I picked up this board book recently, I had a moment of realization.
WE are farm folk, too!
Ms. Wisnewski's art, by the way, reminds me of picture book author/artist Lois Lenski whose "The Little" series were evoked by this book. Her "Strawberry Girl" won the Newbery Medal in 1946.
But, I digress.
Farming has been a Chapter Two for us, but we have embraced it wholeheartedly.
As my husband left an illustrious career in book publishing and I, as a teacher, he/we mused on the next chapter of our lives.
My husband opined:
   "I know a lot of 90 year old farmers and NO 90 year old publishers.

  They must be doing something right.

  I love to grow things."

Let's jump in."
And that's just what we did.
44 acres later, begun with 17 acres of established grapes, ( the rest of the acreage at that time, being chest high weeds), we had put in an additional 7 acres of grape vines and added raspberries, strawberries, blueberries and blackberries, 2,800 apple trees of eight varieties and vegetables grown from non-GMO seeds.
We, that is, my husband, myself and my youngest daughter are now Surrey Lane Vineyard/ Orchard/ Farm since 2011, so named after the street where we raised our children.
Our Motto: "If we show it, we grow it."
And we have a small farm stand from which we sell what we grow, as well as our 8 wines.
Whew!
I have to say that it's a kick to walk into a local eatery and see "Warm String Bean Salad" on the menu, "With beans from Surrey Lane Farm," or see a local patron enjoying a glass of our wine and overhear their comment on how delightful it is, not giving away that we are Surrey Lane.
As I have often said, in publishing, we were feeding people's minds and imaginations with books, and NOW we are literally feeding them!
And it is quite humbling…in BOTH chapters of our book of life.
Which is a long way round the block to "Little Old Farm Folk."
We can certainly relate to parts of this picture book as in:
The little old man grabs his rake

               later that morn,'

to chase the crows out of the corn.

And as the crow flies…

The little old lady picks carrots, beans,

                 and tomatoes.

    She cooks them and serves them

           with a side of potatoes.
There is certainly nothing like the taste of fresh corn picked THAT DAY from the field.
You have a growing respect for the farmer who realizes, as he plants, that Mother Nature is his silent partner. And sometimes she is not so silent!
He is at the mercy of the vagaries of weather, insects, birds, rabbits, groundhogs and others.
Though Mother Nature is unforgiving at times, she also provides remedies for the ills…. sometimes.
We have a red-tailed hawk on our farm that we have named "Hannibal the holy Red-tailed hawk." He sits on a post as my husband prunes or plies in the heat, and Hannibal also keeps the other birds at bay. Good bird!
Also, our compost pile, when heaped with what is not sold or given to local food banks, is occupied by our Geoffrey the Groundhog.
We have pictures of him atop the pile munching on the leavings. He is FAT!
Back to "Little Old Farm Folk." The charm of its bright and bountifully detailed illustrations seem to hint at a subliminal message beneath the sweetness and charm of the farm.
And that is the fact that "farming is not for the faint of heart or the unbelieving." It is hard work and you have to invest it with love and care.
Like the board book by Ms. Wisnewski, the gray-haired farmer and his wife are made of sturdy stuff and have been at their farm for many years.
They are "early to bed and early to rise" folk as most farmers have to be…the same as we:
And as sure as the sun does set…

    Without so much as a peep,

All the little farm folk fall fast asleep.
Ms Wisnewski, you got that right!
Love your book!