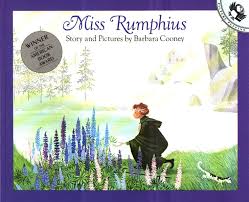 The Lupine Lady's Seeds of Classic Picture Book Truths Are Still Bearing Fruit!
"Miss Rumphius"
Story and Pictures by Barbara Cooney
As December 6th nears every year, and with it the Feast of St. Nicholas, I am reminded of the simple dedication found in the pages of a picture book by Barbara Cooney which was winner of The American Book Award in 1982 and a New York Times Book of the Year!
Published some thirty-seven years ago and guess what? This classic picture book read still has much to say to new generations of young readers.
The book is the marvelous Miss Rumphius and its dedication simply says: "To Saint Nicholas, patron saint of children, sailors and maidens," and Ms. Cooney's book is a homage to all three groups with its deft interweaving of the spirit of each.
This book speaks to the "bucket lists" most people have in life. It may consist of goals they want to accomplish in a lifetime, places they hope to visit over the span of that lifetime and people they'd like to meet if given the opportunity.
Well Miss Rumphius, also known to her many admirers as the Lupine Lady of Barbara Cooney's wise and wonderful picture book of the same name will soon celebrate the quiet dispensing of its generational wisdom and guidance to young readers composing their individual "bucket list" for close to 30 years. And that is indeed cause for celebration.
Ms. Cooney's simple story of the young girl, Alice whose personal "bucket list" includes traveling to foreign places, followed by coming home to spend her days by the sea. But her sincere and wistful childlike wishes are challenged lovingly by her grandfather with his gentle admonition of adding a third thing, that something "more" to her "to do" list.
"What is that?" asked Alice.
"You must make the world more beautiful," said her grandfather.
"All right," said Alice. But she did not know what that could be.
How Miss Rumphius fulfills her personal "bucket list," while never fully discounting the imperative of her grandfather is a picture book sure to promote active and thoughtful discussion with young readers.
Ms. Cooney's book, beautifully illustrated and told is the age-old question of what should be the legacy of a life. In Miss Rumphius, it is simply, beautifully stated.
In a world which values acquisition and self-fulfillment, sometimes to the exclusion of any responsibility to a wider world, Miss Rumphius is a reminder that the "more" we seek can sometimes be something as small as waves of lupine seeds scattered to gladden the eye and heart of generations who may never know who planted them.
We see the cycle of legacy come full circle in the closing conversation between another young Alice and her Great-aunt, the now white-haired and well-travelled Miss Rumphius, seated in a chair and surrounded by a younger version of herself and her attentively listening friends.
She dispenses a wisdom born of experience that life is lived in forward motion, but sometimes understood in reverse. The message of giving back in whatever way possible, in a world full of opportunities to take, is beautifully and sweetly given.
The inference is subtle that the planting is legacy enough. And certainly it continues to be reason enough for the enduring longevity of this book and its ability to resonate with each successive generation of young reader. The Lupine Lady is certainly worth meeting in this essential classic, both for the message it delivers and its honest and timeless tale as enduring as the picture book itself.
Its subtle and soothing story will awaken young readers in this current  culture that sometimes confuses celebrity with achievement, and awakens that longing within them to seek and serve the universe, mindful of their places in shaping its future.
Ms. Cooney's pastel palette of art dovetails to perfection with her narrative, as her younger adventurous undertakings are shaded brighter far afield of home, while the "Lupine Lady's"  seaside planting of seedlings close to her home, are done with a lovely and light touch.
Please knock on the door of Alice Rumphius' house by the sea with your children in hand to some quiet corner. You will not be sorry, and your children will certainly be the richer for a sit down with her via Barbara Cooney's delightful book.