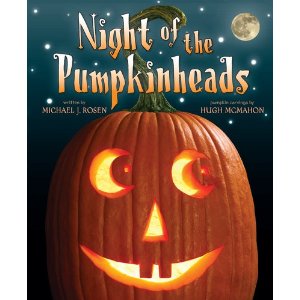 Pumpkins Glow Like Never Before!
Night of the Pumpkinheads
By Michael J. Rosen; pumpkin carvings by Hugh McMahon
In case you haven't noticed, Halloween has become a HUGE holiday for celebration AND decorating for kids and adults alike.
Have you ever wondered what those carved pumpkins sitting sedately on quiet home porches do on Halloween to celebrate the eeriest night of the year?
Well, I urge you to crack open the spine of the freshly fearsome Night of the Pumpkinheads. May I suggest reading it at the "very witching hour" to quote Washington Irving in The Legend of Sleepy Hollow? That is another great Halloween book by the way.
Pumpkin carving, a traditional Halloween ritual in many homes, has morphed into an art of Martha Stewart-like proportions. In fact, Hugh McMahon with thirty-five years of pumpkin carving experience behind him, fashioned the amazing and complex carvings in the book. Appearing on The Martha Stewart Show, The Today Show and Good Morning America, his designs have been featured in magazines such as People, Time, Life and Vogue.
Pumpkins have come up multiple degrees in carving complexity from the jolly and toothy grinned open topped jack o' lantern to the artistically imaginative creations seen in the pages of this book and Hugh McMahon's fine handiwork and skill are a wonder!
Michael Rosen, along with Hugh McMahon, have created a Halloween tale of "what if" for squash carving enthusiasts and everyone who delights in a good Halloween story.
I fully enjoyed reading this book as our two girls have been deep into heavy duty and complex pumpkin carving for many years. Huddled around the kitchen island or sprawled on the floor with copious amounts of newspaper spread as far as the eye can see, Halloween Eve is our family's "night of the pumpkin"!  These complex creations are displayed on our front porch on Halloween to great effect.
The intense importance of this ritual and tradition to the youngsters in our neighborhood was fully brought home to me one recent Halloween.  One quietly solemn young trick or treater of approximately ten years of age said to me in a very serious tone as he surveyed the porch, "NEVER stop doing this!"
Mr. Rosen and Mr. McMahon definitely "get it". This Halloween tale is fresh, funny and fiercely imaginative in its display of what a simple squash is capable of morphing into via the hands of a master. Kids will ooh and ah at the pumpkins and so will you. The question will linger – "How does he do that?" and "Can we try it?"
Halloween is all about pretending to be something else whether you are a kid, adult or a squash.
In the riotous Night of the Pumpkinheads, for a night a collective of pumpkins get to be dinosaurs, Frankenstein, saber-toothed tigers and even the Loch Ness Monster!
Nessie doesn't look too hard to master. I wonder if….
To see more of Hugh McMahon's work after reading this book, try visiting
www.gochelsea.com/pumpkins
for more of a master pumpkin carver's work.