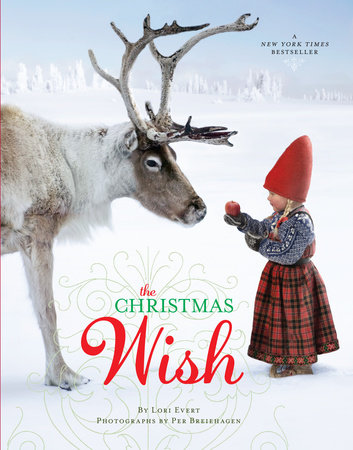 A Real Norwegian Christmas Story: Part 1
The Christmas Wish
Story by Lori Evert
Photographs by Per Breiehagen
What if your name was Anja, and you lived in Norway, loving, among other things, adventures, reading, and your dog called Moby?
Just as an added plus, you just also happen to be a terrific skier – even if you are a little blond and braided bit of a thing. And what if your dad was an award winning photographer?
And what if your mom, who is a prop, set and wardrobe stylist, sees you with a reindeer one day, prompting a picture book idea to pop into her head?
So started a "four year family project" that ends in this stylish picture book called "The Christmas Wish."
Trust me, every little girl that loves "American Girl" dolls will be in love with Anja, her northern home, and her hope of being one of Santa's Elves on Christmas.
Per Breiehagen has brought all his wonderful photographic skills to bear (and there is even one of those here, too), in this "You have to believe book" of a Christmas wish come true.
From the first photo of Anja peering, and glumly wishing, out the wooden glass paned window of her cozy home, kids of all ages will be on board to see if her wish is granted.
Can I say right now that I want one present for Christmas – one of Anja's outfits.
From her Dale of Norway-like sweater to her bibbed plaid pinafore, to an adorable red woolen cone shaped hat, Anja is a girl on a mission. And those curled-up-at-the-toe furred snow shoes, may just start a fashion trend.
I tell myself they are faux, and my conscience is quieted.
Before you think Anja is merely a self serving type, and definitely before her own quest commences, she is seen sweeping, a la Old Befana, at the doorway of an older neighbor, clearing drifts away, and lugging in deep snow, a "small tree for her to enjoy."
Delivering gifts to family and friends is her first step before setting out, but not before a quick study of the positioning of the North Star, and Anja is off on this fanciful photographic journey to see Santa.
And what sights Anja, and you, will see along the way, aided by dad's breathtaking photos of her winter white Norwegian landscape.
Nature, with an array of decidedly large animals of all sorts, like a giant horse, musk ox, (huge) and a enormous polar bear, provide transport and encouragement for her along the way.
Oops! Forgot the tiny red cardinal at the start and end of the story. It does stand out in all that snow!
How did her dad get those pictures of Anja perched atop a perfectly huge polar bear? Trick photography? Or perhaps, they found a very Gentle Ben of a bear!
When a reindeer bell jingles, young readers, parents and Anja will just feel her goal is in sight.
And what child could not imagine the joy of being in the company of a reindeer escort, as a small, single reindeer sleigh, pulls her through the night sky and right to Santa in his sleigh, all fitted out for their journey.
And with an "I have been waiting for you," Santa assures the reader and Anja, that both are on the brink of seeing a dream come true.
Parents will surely nod at the reasoning behind her wish being granted, as Santa informs her that it is being done solely because "You bring kindness and joy to those around you all year." Nice touch!
And that is a good message for kids to hear this time – or any time of year.
And lest you doubt Anja's story, she is gifted with a magical bell at her journey's end, to summon Santa if she is in need, and also to prove her journey was not a dream. Or was it?
Why not read "The Christmas Wish" and have you and your young reader determine its veracity for yourselves.
And dear Santa, all I want for Christmas is an outfit like Anja's – and a heart as good!