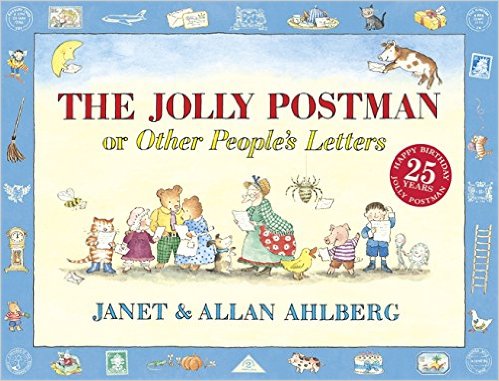 The Jolly Postman or Other People's Letters
By Janet and Allan Ahlberg
Remember cursive, longhand or Palmer method handwriting? Probably many of my readers were taught this method in elementary school. With the emphasis on keyboarding, this form of writing is falling by the wayside. What would John Hancock say?
His name was written large purposefully on the Declaration of Independence so King George, as Mr. Hancock tells it, could read the signature without his spectacles!
And speaking of that, could many children read the Declaration of Independence, written in cursive, as many elementary students today can neither read nor write cursively?
But that's a post for another day.
I can vividly recall the graceful sweep of a favorite teacher's longhand letters being written on the blackboard, as we eleven year-olds busily attempted to copy the same style in our black and white marbled notebooks.
My 6th grade teacher was writing the words to a stirring Irish ballad called "The Minstrel Boy" as a cultural pre-St. Patrick's Day cultural lesson. I can still recall the look of the letters and the words.
And this teacher still writes handwritten notes to me. And the notes and the sentiments are very inspiring. It reinforces to me that some things in life are constant and comforting.
So it is also with the daily delivery of mail. What is that phrase? How does it go?
           Neither snow nor rain nor heat

           nor gloom of night stays these

           couriers from the swift completion

           of their appointed rounds.
These words are an inscription on the James Farley Post Office in New York City. That's about as close to an official creed as it gets for the United States Postal Service.
And Janet and Allan Ahlberg have a classic read that would make the postal service couriers proud.
Featuring one of their own as the deliverer of letters, their picture book has quite the literary bent, as it includes missives from and to some pretty famous picture book characters.
And what makes this book even more appealing is the inclusion of the actual letters! And they're not just printed on a page. They're in an actual envelope that can be opened, and the letter's contents  read to and by young readers – with peeking allowed!
For instance, there is an apology letter from that blond house intruder, Goldilocks, as she attempts to make nice, via a note to The Three Bears. Please pardon the spelling and punctuation blips. She tries.
            I am very sorry indeed that I

            cam into your house and ate

           Baby Bear's porij. Mommy says

           I am a bad girl I hardly eat any porij

           when she cooks it she says Daddy

           says he will mend the littel chair.
Hansel and Gretel's witch receives a full page ad from the Hobgoblin Supplies Ltd. They sure do stand behind their products:
            Everything for the modern witch.

            Delivered to your door or den.

            Covens provided for.
I love the offered "cup and sorcerer tea service" that washes itself and the "easy-clean non-stick cauldron set" advert with free recipe for toad in the hole!
Wonder if it's anything like egg in a hole? The giant in Jack and the Beanstalk and the Wolf in Grandma's clothing in Little Red Riding Hood, are sent letters, though some are a bit threatening with a tone of legalese, as in the following to the wolf:
            We are writing to you on behalf

            of our client, Miss Riding-Hood,

            concerning her grandma. Miss Hood

            tells us that you are presently

            occupying her grandma's cottage

            and wearing her grandma's clothes

            without this lady's permission.
Young readers will have fun opening and reading the letters.
My favorite letter is addressed in a lovely longhand in gracefully looped letters to:
               H.R.H Cinderella

               The Palace

               Half Kingdom Road
Inside the envelope is a note to the newly married royal couple, touting the recent publication from The Piper Press and Peter Piper himself of… "a little book for young readers in celebration of your marriage to H.R.H. Prince Charming."
Included in the envelope is a small version of Cinderella's storybook change from parlor maid to princess!
And, if you enjoy this picture book, try The Jolly Christmas Postman from this best selling husband/wife team of author/illustrators named Janet and Allan Ahlberg.
And, did you know there's another classic fairy tale favorite by these favorites of mine? Only it's in "I spy" mode, and titled "Each Peach, Pear, Plum."
Young readers will have fun locating fairy tale folk such as Tom Thumb and that famous trio of bruins.  It's sure to please.
But for now, this classic picture book first issued in 1986 has my stamp of approval all over it!