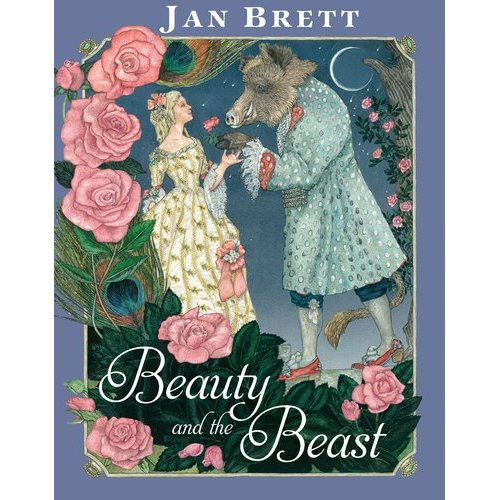 Beauty and the Beast
By Jan Brett
In case you were unaware, Disney's 3-D version of Beauty and the Beast will be waltzing into local theaters for a limited run on January 13th. So I felt it entirely appropriate to share what I consider to be one of the most beautiful versions, both in artistry and text of this "tale as old as time" fairy tale. No, you will not meet Lumiere, Mrs. Potts, Chip, Cogsworth, Gaston or any of the Disney characters here.
But what I can unquestionably guarantee is that you will fall in love – not only with Beauty whose loveliness is grace and elegance personified, but indeed your heart may also do a small pit –a –pat for this most boorish and boar like Beast.
Jan's Beast is a real boar. No, not A BORE! He is fashioned no less from the work of the famous nineteenth century illustrator, Walter Crane and Brett enthusiasts will revel in the exquisite details and hints to the outcome of the story found in the wall tapestries that line the Beast's castle walls. Gloriously blue plumed peacocks traverse the environs of the Beast's estate where delightfully outfitted footman in the guise of spaniels and monkeys strut about, while a trio of regally outfitted musicians (fox, deer and weasel) in regal purple regalia, entertain Beauty and her Beast.
For those of you unfamiliar with this centuries old fairy tale, Beauty must agree to live in the castle of the Beast in order to save her father's life who, to his regret, has dared pilfer a rose for Beauty from the garden of the Beast. The Beast in turn demands payment. The payment unfortunately involves Beauty's taking up permanent residence with the Beast! Ugh.
But wait, as in many fairy tales things are not always as they appear and Beasts may be both kind and in need of someone to look beyond their surface ugliness to the soul of a prince that lies waiting beneath the bore er boar!
As you turn the pages of this rich rendering of an ancient tale, both you and your children will be rooting for the Beast and urging Beauty to return to him when the Beast grants her a respite from captivity to revisit her father's home. It is in this separation from the Beast that Beauty finds her heart's desire, seen only through the eyes of true love. Go back Beauty! Marry the guy er Beast! He's definitely worth it and so is this gorgeous book.