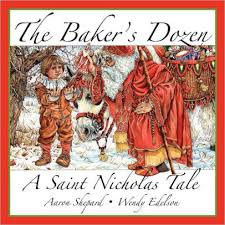 "The Baker's Dozen : A St. Nicholas Tale" by Aaron Shepard; with art by Wendy Edelson – 15th Anniversary Edition
Today is December 6th, the Feast of St. Nicholas, who is the patron saint of children and of sailors.
His help is also sought in prayer by the shipwrecked, those in difficult economic circumstances, and also by those affected by fires.
He was born in Lycia in Asia Minor around the third or fourth century.
Nicholas was put in prison during the reign of the Emperor Diocletion and was only released upon the ascent of Constantine the Great to power who made Christianity the official religion of the Roman Empire.
One of the most famous tales of this great bishop's anonymous generosity is told in the story of the bags of gold that he tossed secretly through the window of a poor man, with the aim of the coins serving as the daughters' dowry, lest they be sold into slavery.
But here, in "The Baker's Dozen: A St. Nicholas Tale" by Aaron Shepard, and delightfully rendered Old World feel in character art by Wendy Edelson, this 15th edition of this picture book relates the story of how the term "baker's dozen" came to be coined.
The book was chosen as American Booksellers Pick of the Lists. Aaron Shepard has won awards from the American Library Association with his books centering on retelling of folktales and traditional literature. And here, Mr. Shepard has singularly told a tale that needs telling in a modern culture of tit for tat.
A baker's dozen is 13 pieces, with the extra one thrown in by the baker out of pure generosity of spirit.
It opens with Van Amsterdam, the baker, busier than ever in his Dutch colonial bakery where he is well known for his honesty, but also for the delicious and beautifully iced St. Nicholas Day cookies he sells on the saint's feast. They are white and red and sell like hot cakes.
Except one St. Nicholas Day, an old woman visits his bakery and asks for a dozen of the cookies which she chides him should number thirteen instead.
A difference of opinion ensues and a curse is pronounced until the baker learns to be a teeny bit more generous of heart.
Suddenly, business drops off!
Is it the cookies or the curse and just WHO is the old woman?
"The good will of legendary St. Nicholas resonates in this tale about the origin of the term "baker's dozen"…Shepard's easy-to-follow telling has an appropriate Old World flavor."
                                                                         Publishers Weekly
A lush new version of a traditional tale…Well-chosen words and a nicely paced text that begs to be told aloud. A treat for the holiday season.

                                                                   School Library Journal
A story with a message to be heard during the holidays and all year long.

                                                                  Children's Book Review
And Wendy Edelson's paintings have such richness of color, character and detail, they add a definite artistic delineation of St. Nicholas and this baker's tale, with a feel straight from the art of the Old Masters. Her clients have included the U.S. Postal Service and the American Library Association.
This picture book is a beautiful addition for a read-aloud at holiday time, whether to a group of school children or any captive audience of young readers that perhaps know little of this saintly precursor of Santa Claus.
Mr. Shepard's tale is a great illustrator of the maxim that "honesty may indeed be the best policy", BUT while you're being honest, baker Van Amsterdam learns quickly to his credit, that an equal measure of generosity of spirit doesn't hurt. In fact, it helps both you AND your business.
Great holiday read for the young ones and a fine !5th Anniversary Edition, as it has a Bonus Cookie Recipe and a Pattern for St. Nicholas Day cookies included.