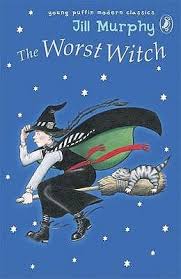 "The Worst Witch" written and illustrated" by Jill Murphy
Before there was Harry Potter and Hogwarts School for Wizards, there was Jill Murphy's book called "The Worst Witch" that told the tale of a young wannabe witch, one Mildred Hubble.
Peopled with its own version of the severe and snide Severus Snape, from "Harry Potter" in the person of the imposing Miss Hardbroom,  witch counterparts abound. There's a kindly Dumbledoresque female figure, known as Miss Cackle, Headmistress of an Academy for witches that bears her name, and even a jealous Ethel Hallow as the malevolent counterpart of Draco Malfoy; he of Slytherin House fame in the Harry Potter series.
"The Worst Witch" was an early precursor of most young reader's interest in all things magical.
Like Harry Potter, wizard-in-training, who, at the outset of the series is somewhat insecure, Mildred Hubble, witch-in-training, doesn't have it all together either. And there's a huge publication gap in between these particularly favorite witch and wizard books.
"The Worst Witch" was published in 1974 and the first book in the J.K. Rowling Harry Potter series publication was 1997. That's some 23 years!
Jill Murphy's character of the shy and unsure first year named Mildred Hubble, shod in black hob-nailed boots, with laces all undone and tousled hair, touched many young readers in her struggles that might be reminiscent of their own. After all, there is that song called "Growing Up Isn't Easy" from the 1986 made-for-TV version of the book. Nope, Mildred, it isn't! But, you CAN  try and eventually succeed, even if it is at your own pace.
Jill Murphy's series on the trials, and not the Salem witch type, are included in a ten book series. I just reread the first of the ten and they are worth the Halloween reading romp for young readers who may identify with Mildred's struggles to fit in and learn the spells at the drop of a witch's hat. But, messes are her medium, it seems.
My two daughters loved these books and the movie that emerged from the initial first book, published in 1974, when Jill Murphy was a mere 24 years of age. Mildred's many seemingly continuous school-related miseries still hold up with the passage of time.
Ms. Murphy's black and white drawings of Mildred's world at Miss Cackle's Academy for Witches and the quirky characters that live there, come to imagined life from the written pages.
And in 1986, Jill Murphy's characters fairly leap to life, in a wonderful made- for-TV version in which appeared such acting stage luminaries as the amazing and brilliant ennunciator and pronunciator named Diana Rigg as the perfectly dictioned, Miss Hardbroom. Tim Curry as The Grand Wizard and Charlotte Rae as Miss Cackle are over the top funny.
It's one mishap after another for poor Mildred as Halloween finds her on the receiving end of a cruel joke by Ethel Hallow. It occurs smack in the middle of a witch flying formation routine, designed to impress attending dignitaries of the witch world. Disaster ensues for Mildred.
Whether it's in the Spells class gone awry, as the ones for Laughing and Disappearing were previously mistakenly mixed up, things do not seem promising for a second year for Mildred.
If you are doing the mixing alongside Mildred, perhaps her friend Maud needs a better lab partner who can get the mix right.
Will this latest and last mishap of the formation flop, be the final broom straw for this first year worst witch?
Now, how did that spell go for changing people into snails? Might come in verrry HANDY, Mildred, in the near future.
When Mildred chances upon Miss Cackle's evil twin named Aggie who longs to take over her sister's academy and, let us say, install some changes that include changing everyone to FROGS, this just MIGHT be Mildred's moment of redemption.
Can Mildred remember the correct Spell intonation before the Academy is set upon by a coterie of cackling hags? Snail potion, Mildred!!!
And, as mentioned before, just for future reference, when discerning the difference between Laughing Potion or the one for Disappearing, if you're mixing it up, best to look for the color PINK!
A sip pf the PINK brings on the giggles, while the GREEN may cause a slight separation and disappearance, however brief, of Mildred's Spells partner and friend, Maud's head and body! Mildred too!
Jill Murphy's ten book series of the mishaps and successes of this most endearing heroine who manages to hold it all together during a longer learning curve than most, is a confidence builder for young readers who are not exactly in step and pace with the rest of their classmates.
Kindness, true effort  and diligence count more at the end of a witch's day, (or any young reader's) than just being top of the heap, grade wise.
!986 and 1998 saw made for TV versions of The Worst Witch. And, for my money, Charlotte Rae, also famous for her role of Mrs. Garrett on the TV series, The Facts of Life, and her off the charts portrayal of the two opposing opposites named the Cackle sisters, wins hands down, in this 1986 TV version.
Listen to Aggie Cackle sing, "My Little School" listing HER dreams for the transformation of Miss Cackle's Academy. Priceless! Love the backup singers.
Here's "Growing Up Isn't Easy, too!