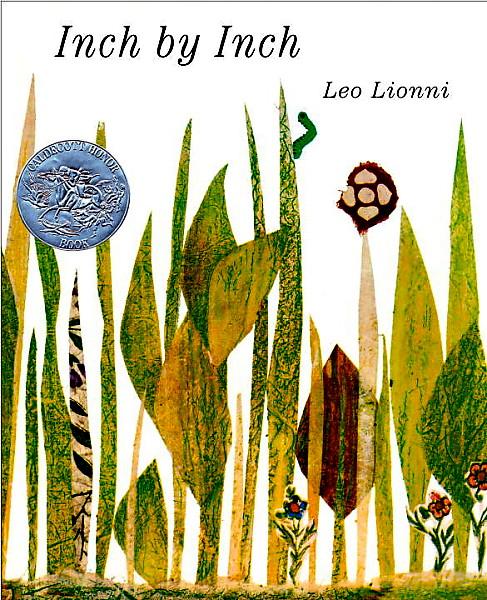 Way Back Wednesday: Celebrating 75 Years of the Caldecott Medal
Inch by Inch
By Leo Lionni
We have had our hands deep in the soil this year at our vineyard/orchard/ farm and so when I recently heard John Denver's version of Dave Mallett's The Garden Song, it put me in mind of this classic picture book by Leo Lionni.  The song sung by John Denver hit the national charts in 1979 and the book "Inch by Inch" came out in 1961 and again in 1995. It was a Caldecott Honor book, in fact. Listen to some of the verses to the song variously recorded by Peter, Paul and Mary, Arlo Guthrie and others. But it was John Denver's version that gave it legs.
The Garden Song

 

Inch by inch, row by row

Someone make this garden grow.

All it takes is a rake and a hoe

And a piece of fertile ground.

 

 

Old crow watchin' hungrily

From his perch in yonder tree

In my garden I'm as free

As that feathered thief up there.
And there's another song that comes to mind where this classic book is concerned. It's called "Inch Worm", written by Frank Loesser for the movie, Hans Christian Andersen starring the incomparable Danny Kaye as Hans. If your young readers haven't seen it, please treat them to it if you can rent it or purchase it. It's a treasure and classic all its own. Here's a snatch of the song and you'll soon see why it too dovetails to perfection with Mr. Lionni's book.
Inch Worm

Inch worm, inch worm measuring the marigolds

You and your arithmetic, you'll probably go far.

Inch worm, inch worm, measuring the marigolds

Seems to me you'd stop and see how beautiful they are.
There is a counter point that overlays the song where kids are heard singing, two and two are four, four and four are eight, eight and eight are sixteen, sixteen and sixteen are thirty-two. It's quite beautiful.  It seems arithmetical measuring figures largely in Mr. Lionni's book too.
In Leo Lionni's classic, the small, green inchworm is peacock proud of his prowess at measuring things such as a robin's tails, flamingo's neck, and legs of a pheasant, a heron's tail and even a toucan's beak! Enter the nightingale, prepared to make a feast of the green measurer. His mathematical accomplishments assure the nightingale that he can measure his song as an escape device.  Do it, says the famous singer of songs or be, well, EATEN! This is a toughie, even for the inchworm, but his surprising solution to the task will please your young reader, plus have them searching out the inchworm, small as he is, on each page. Hint: The measuring is done and the song suggested for the nightingale is something to be sung "Far Far Away!
The Chicago Tribune called Mr. Lionni, winner of no less than four Caldecott Honor Awards, "a master of the simple fable." A modern Aesop, his books are simple and beautiful as in "Inch by Inch, its simplicity of tale and technique has combined for more than fifty years to give pleasure to young readers. "Inch it up" on the list of "to be read" picture books if you have not enjoyed it yet! 
For more Inch by Inch fun, check out this great video: http://www.youtube.com/watch?v=D3FkaN0HQgs