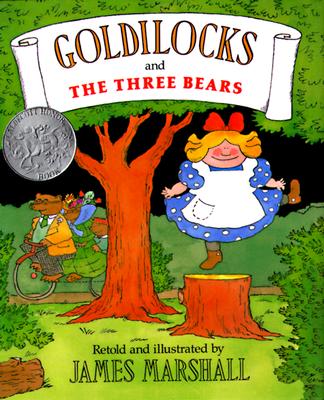 Way Back Wednesday Essential Classic
Goldilocks and the Three Bears
Retold and illustrated by James Marshall
Like cocoa and porridge on a cold winter's morning (did I say porridge?) there are certain picture books that are like comfort food- familiar, reassuring and sweet. Sort of like the feel of a cozy slipper we can easily slide into. In that vein, please revisit with your child James Marshall's Goldilocks, that famous foodie and house intruder, and The Three Bears whose house she bungles into or burglarizes.
If your youngest reader hasn't sampled this delightful take on an age-old tale, and even if they have, its retelling here by Marshall's Caldecott Honor Book is definitely worth a look and a read. It's funny and far out (in the woods, that is). Marshall's Goldilocks is a do-as-you-please blonde, headstrong and naughty girl who enters the forest against Mom's strictest orders.
Sent on an errand for muffins, she is told specifically not to take the shortcut though the forest. And here commences this lively tongue in cheek telling of this famous tale to hilarious effect. The signs of, "Danger!" "Very Risky!" "Not a Good Idea!" "Turn Back!" "Go the Other Way!" do not apply to her, of course. They are tacked on to a wooden trellis with the word "shortcut" writ large. Think is going to stop Goldie? Think again.
Quick scene shift to a cozy cottage in the woods. Who knew small bears could be drama queens as they topple over in their chair after sampling the too-hot porridge and gravely intone, "I'm dying". The perfect solution, of course, is a spin on a bike while the porridge cools. Enter you-know-who.
Hey, those blonde,bouncy curls don't fool anyone. Here comes trouble. And her name starts with a G! From porridge to split chairs to co-opting comfy beds, this Goldilocks is a home invader and enjoying every bit of her intrusive visit. I think your youngest readers will enjoy Marshall's take on the Wee bear's bedroom. And I think moms everywhere will relate to it. It looks like a typical child's room-topsy-turvy, drawers open, stuff everywhere. This is a definitely a kid's er..bear's room.
A quick return of the bears and a bellowing quote of, "Now see here!" from a roaring Papa Bear sends Goldie fleeing the scene with no explanation, of course. Your children will love this retake on a favorite fairy tale with Marshall's colorfully bright illustrations of this naughty little girl who does exactly as she pleases and bruins who have to "bear" the brunt.
***************************************
A Note About Way Back Wednesdays
You may have noticed that many of the Way Back Wednesday books I've selected are Caldecott Award winning books. You may or may know that the Caldecott medal is given yearly to "the most distinguished picture book for children published in the United States beginning with 1937 publications." It is awarded to the illustrator by The Association for Library Service to Children- a division of the American Library Association. The award is named for Randolph Caldecott, who a 19th century English illustrator and here are the criteria for the award:
The book must be published in English in the United States during the preceding year
The illustrations must be original work
The artist must be a citizen or resident of the United States
The book must be considered for the artistic technique employed, pictorial interpretation of story, appropriateness of style of illustration to the story, delineation of plot, theme, characters, setting, mood or information through the pictures and recognition of a child audience
The book must display respect for children's understandings, abilities and appreciations.
The book must be a self-contained entity, not dependent on other media for its enjoyment.
The reason I so often select Caldecott winners for Way Back Wednesday blog entries or videos is because I feel that these stories have stood the test of time. And time is the great leveler. I feel they have something in their themes that still speak to consecutive generations, even though some of them were written 60-70 years ago. They may have fallen off the radar for many parents or grandparents who remember reading them in their youth and so one of my goals is to bring them front and center again for a new batch of readers to enjoy.