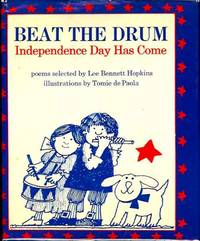 "Beat the Drum: Independence Day Has Come" – Poems Selected By Lee Bennett Hopkins; illustrations by Tomie de Paola
In 1977, two of my favorite children's authors came together to do this children's picture book to celebrate the seminal date of July 4, 1776, in our country's history; and they would be Lee Bennett Hopkins and Tomie de Paola.
And with July 4th on the horizon, and being a huge advocate of classic picture books, I wanted to continue to celebrate with this book.
Both of these men were friends and have recently passed, but their literary legacies, thank goodness, continue to shine as brightly as their lives and stories and poems did, and please God, will continue to inspire continuing generations of young readers.
Here, through their use of Lee Bennett Hopkins' selected poetry, coupled with Tomie de Paola's whimsical illustrations in patriotic red, white and blue, these two icons of picture book fame, have given your young reader a way to celebrate July 4th in literary style, but with definite young reader appeal!
Because this book and indeed some others that I blog on, are older classic reads, they may be harder to find.
But, please trust me when I say, it can be worth the search. You can ask your independent book seller to order them OR AbeBooks.com is a great source for children's books that are hard to find. And, for the most part, the prices are fair.
And because certain wonderful children's picture books have ceased to be in print, it may be worth lobbying the publisher for a reprint to be set in motion.
The extra time is worth it, because you are introducing your young reader to the back list of what is considered classic children's literature.
The sampling of poetry ranges from Carl Sandburg , Stephen Vincent Benet and Rachel Field to Shel Silverstein and Lois Lenski. There are even some "Anonymous" poets thrown in for good measure; and I wish we could give an attribution to them, for they are wonderfully done.
July 4th is all about bombast, parades, picnics and fireworks set off in the skies and sparklers with flash and dash. And, coupled with Tomie de Paola's joyous illustrations in red, white and blue, that "literally explode off the page," to quote the cover flap, "Beat the Drum : Independence Day has Come" is a grand way to celebrate with young readers.
Here are just a few poetic tintinnabulations that echo the title and fit the day to perfection:
Fourth of July

Fat torpedoes in bursting jackets,

Firecrackers in scarlet packets.

We'll be up at crack o' day.

Fourth of July – Hurrah! Hurray!

Rachel Field
And sometimes, young readers need a poetic reminder that famous people were not always so, and like most of us, not perfect – they were children once; just like the ones reading the page of poetry:
Just Like You

The famous men and women

Who helped our country grow

Weren't always great and famous

Those long, long years ago.

George Washington, and Betsy Ross,

Ben Franklin, Paul Revere,

All started out as babies

And grew a bit each year.

They started out as children,

Just boys and girls like you

Who worked and played and laughed and sang

And cried a little, too,

And learned their lessons when they could

And said their prayers at night.

They never knew we'd call them great

And keep their memories bright.

They never knew someday they'd be

Famous names in history.

Margaret Hillert
So, celebrate those 246 years that have elapsed since the very first Independence Day on July 4, 1776.
Celebrate with a book and a boom of fireworks lit skies , barbecues and parades aplenty.
And, remember as Adm. William "Bull" Halsey said hundreds of years ago, post 1776, during another war, called WWll:
"There are no extraordinary men…just extraordinary circumstances that ordinary men are forced to deal with."
Amid the hoopla and the huzzahs and hurrahs of July 4th, please remind young readers of the many men and women, named and unnamed, that risked all to start a new nation.
They are worth remembering especially today in pictures and poetry, thanks to two picture book greats that are always worth remembering for their enormous individual and combined contributions to the quality and content of American children's literature; Lee Bennett Hopkins and Tomie de Paola.